Supreme Chocolate Saucepan Brownies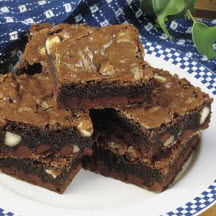 Supremely moist and rich chocolate brownies with chopped macadamia nuts.
Recipe Ingredients:
1 cup butter or margarine
2 cups granulated sugar
1/2 cup HERSHEY'S Cocoa
4 large eggs, beaten
2/3 cup all-purpose flour
1/2 teaspoon salt
1/4 teaspoon baking soda
2 teaspoons vanilla extract
2 cups (12-ounce package) HERSHEY'S Semi-Sweet Chocolate Chips
1/2 cup macadamia nuts, coarsely chopped
Cooking Directions:
Preheat oven to 350°F (175°C). Grease 13 x 9 x 2-inch baking pan.
Melt butter in medium saucepan over low heat. Add sugar and cocoa; stir to blend. Remove from heat. Stir in eggs.
Stir together flour, salt and baking soda; stir into chocolate mixture. Stir in vanilla, chocolate chips and nuts.
Spread into prepared pan.
Bake 30 to 35 minutes or until brownies begin to pull away from sides of pan and begin to crack slightly; do not underbake. Cool completely in pan on wire rack. Cut into bars.
Makes about 24 brownies.
Recipe and photograph courtesy of the Hershey Kitchens, and reprinted with permission of The Hershey Company. © The Hershey Company.