Tropical Paradise Scones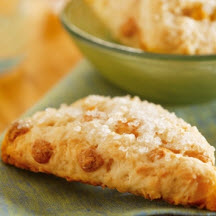 Lime-scented cream scones laced with coconut, chopped macadamia nuts and white chocolate chips.
Recipe Ingredients:
3 1/4 cups all-purpose flour
1/2 cup granulated sugar
1 tablespoon plus 1 teaspoon baking powder
1/4 teaspoon salt
1 cup MOUNDS Sweetened Coconut Flakes
1 1/3 cups (8-ounce package) HERSHEY'S White Chips and Macadamia Pieces
2 cups chilled whipping cream
2 tablespoons fresh lime juice
2 to 3 teaspoons freshly grated lime peel
2 tablespoons butter, melted
Additional granulated sugar
Cooking Directions:
Preheat oven to 375°F (190°C). Lightly grease 2 baking sheets.
Stir together flour, 1/2 cup sugar, baking powder and salt in large bowl. Stir in coconut, white chips and macadamia nuts.
Stir whipping cream, lime juice and lime peel into flour mixture, stirring just until ingredients are moistened.
Turn mixture out onto lightly floured surface. Knead gently until soft dough forms (about 2 minutes).
Divide dough into three equal balls. One ball at a time, flatten into 7-inch circle; cut into 8 triangles.
Transfer triangles to prepared baking sheets, spacing 2-inches apart. Brush with melted butter and sprinkle with additional sugar.
Bake 15 to 20 minutes or until lightly browned. Serve warm or cool.

Makes 24 scones.
Recipe and photograph courtesy of the Hershey Kitchens, and reprinted with permission of The Hershey Company. © The Hershey Company.