Chocolate Almond Torte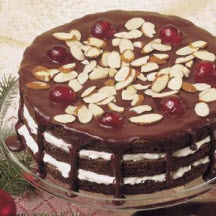 A chocolate almond torte filled with a kirsch-kissed and candied cherry cream, topped with a chocolate glaze and a garnish of sliced almonds and maraschino cherries.
Recipe Ingredients:
Cake:
4 large eggs, separated
3/4 cup granulated sugar - divided use
3/4 cup ground blanched almonds
1/3 cup all-purpose flour
1/3 cup HERSHEY'S Cocoa
1/2 teaspoon baking soda
1/4 teaspoon salt
1/4 cup water
1 teaspoon vanilla extract
1/4 teaspoon almond extract
Cherry Filling:
1 cup cold whipping cream
1/4 cup powdered sugar
1 1/2 teaspoons kirsch (cherry brandy) or 1/4 teaspoon almond extract
1/3 cup chopped red candied cherries
Chocolate Glaze:
1 tablespoon butter or margarine
2 tablespoons HERSHEY'S Cocoa
2 tablespoons water
1 cup powdered sugar
1/4 teaspoon vanilla extract
Cooking Directions:
Sliced almonds, maraschino cherries or candied cherries, halved
Preheat oven to 375°F (190°C). Grease bottoms of three 8-inch round baking pans. Line bottoms with wax paper; grease paper.
Beat egg yolks on medium speed of mixer 3 minutes in medium bowl. Gradually add 1/2 cup sugar; continue beating 2 minutes.
Stir together almonds, flour, cocoa, baking soda and salt; add alternately with water to egg yolk mixture, beating on low speed just until blended. Stir in vanilla and almond extract.
Beat egg whites in large bowl until foamy; gradually add remaining 1/4 cup sugar, beating until stiff peaks form. Fold small amount beaten egg whites into chocolate mixture; gently fold chocolate mixture into remaining whites just until blended.
Spread batter evenly into prepared pans.
Bake 16 to 18 minutes or until top springs back when touched lightly in center. Cool 10 minutes; remove from pans to wire racks. Cool completely.
Prepare Cherry Filling. Place one cake layer on serving plate; spread half of filling over top. Repeat, ending with plain layer on top.
Prepare Chocolate Glaze; spread on top of cake, allowing glaze to run down sides. Garnish with almonds and cherry halves. Refrigerate until glaze is set. Cover; refrigerate leftover torte.
For Cherry Filling: Beat whipping cream, powdered sugar and brandy until stiff; fold in cherries. Makes about 2 cups filling.
For Chocolate Glaze: Melt butter in small saucepan over low heat; add cocoa and water, stirring constantly until slightly thickened. Remove from heat; gradually add powdered sugar and vanilla, beating with whisk until smooth and of spreading consistency. Add additional water, 1/2 teaspoon at a time, if needed. Makes about 3/4 cup glaze.
Makes 10 to 12 servings.
Recipe and photograph courtesy of the Hershey Kitchens, and reprinted with permission of The Hershey Company. © The Hershey Company.