Chocolate Bar Filled Chocolate Cupcakes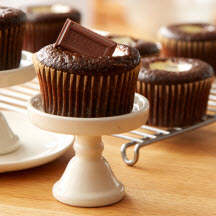 A cheesecake filling, with bits of milk chocolate, is at the center of these chocolate cupcakes.
Recipe Ingredients:
Chocolate Bar Filling:
1 (8-ounce) package cream cheese, softened
1/3 cup granulated sugar
1 large egg
1/8 teaspoon salt
1 (6.0-ounce) HERSHEY'S Milk Chocolate Bar, cut into 1/4-inch pieces
Cupcakes:
3 cups all-purpose flour
2 cups granulated sugar
2/3 cup HERSHEY'S Cocoa
2 teaspoons baking soda
1 teaspoon salt
2 cups water
2/3 cup vegetable oil
2 tablespoons white vinegar
2 teaspoons vanilla extract
2 (6.0-ounce each) HERSHEY'S Milk Chocolate Bars, broken into pieces
Cooking Directions:
Prepare Chocolate Bar Filling: Beat cream cheese, sugar, egg and salt in small bowl until smooth and creamy. Stir in chocolate bar pieces.
Preheat oven to 350°F (175°C). Line muffin cups (2 1/2-inches in diameter) with paper bake cups.
Stir together flour, sugar, cocoa, baking soda and salt in large bowl. Add water, oil, vinegar and vanilla; beat on medium speed of mixer 2 minutes.
Fill muffin cups 2/3 full with batter. Spoon 1 level tablespoon FILLING into center of each cupcake.
Bake 20 to 25 minutes or until wooden pick inserted in cake portion comes out clean. Remove from pan to wire rack. Cool completely. Top each cupcake with chocolate bar piece.
Makes about 2 1/2 dozen cupcakes.
Recipe and photograph courtesy of the Hershey Kitchens, and reprinted with permission of The Hershey Company. © The Hershey Company.