Chocolate Barbeque Grill Cake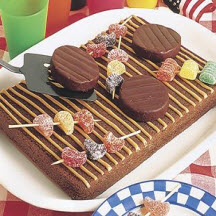 A fun cake to bring out at picnics and backyard barbecues.
Recipe Ingredients:
1 cup water
1 cup butter or margarine
1/2 cup HERSHEY'S Cocoa
2 cups granulated sugar
1 3/4 cups all-purpose flour
1 teaspoon baking soda
1/2 teaspoon salt
3 large eggs
3/4 cup dairy sour cream
2/3 cup REESE'S Peanut Butter Chips
1 teaspoon solid vegetable shortening
Cocoa Fudge "Burgers" (recipe follows, optional)
Fruit shaped gumdrop candies (optional)

Cooking Directions:
Preheat oven to 350°F (175°C). Line 13 x 9 x 2-inch baking pan with aluminum foil; grease and flour sides and bottom.
Place water, butter and cocoa in medium saucepan. Cook over medium heat, stirring occasionally, until mixture boils; boil 1 minute. Remove from heat; set aside.
Stir together sugar, flour, baking soda and salt in large bowl. Add eggs, sour cream and cocoa mixture; beat just until blended (batter will be thin). Pour into prepared pan.
Bake 45 to 50 minutes or until wooden pick inserted in center comes out clean. Cool cake completely in pan on wire rack. Carefully invert cake onto serving tray; peel off foil.
Place peanut butter chips and shortening in small microwave-safe bowl. Microwave at HIGH (100%) 30 to 45 seconds or until mixture is melted when stirred. Place mixture in recloseable small plastic bag; cut off tiny section of corner. Squeeze mixture onto cake, forming grids like top of grill: allow to firm up before cutting. Top with "Burgers" and "Shish-Kabobs", if desired.
Makes 15 servings.
Cocoa Fudge " Burgers": Beat 1/4 cup softened butter or margarine in medium bowl; add 2 cups powdered sugar, 1/2 cup HERSHEY'S Cocoa, 2 tablespoons milk and 1/2 teaspoon vanilla extract. Beat until all ingredients are moistened and consistency to form patties; add additional milk or powdered sugar, if necessary, to get proper consistency. Form "patties"; place on top of cake.
"Shish-Kabobs": Place red, green, and tan colored jelly candies on plastic decorative skewers to form shish-kabobs, if desired. Place on top of cake.
Recipe and photograph courtesy of the Hershey Kitchens, and reprinted with permission of The Hershey Company. © The Hershey Company.