Chocolate Mini Kisses Truffle Cake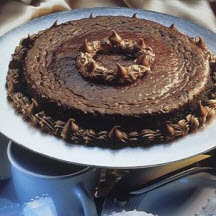 This fudgey chocolate cake has the taste and smooth texture of a chocolate truffle.
Recipe Ingredients:
1 1/4 cups butter (no substitutes)
3/4 cup HERSHEY'S SPECIAL DARK Cocoa or HERSHEY'S Cocoa
1 cup plus 1 tablespoon granulated sugar - divided use
1 tablespoon all-purpose flour
2 teaspoons vanilla extract
4 large eggs, separated
1 cup HERSHEY'S MINI KISSES Brand Milk Chocolates
2 teaspoons HERSHEY'S SPECIAL DARK Cocoa or HERSHEY'S Cocoa
1 (8-ounce) tub frozen whipped topping, thawed
Cooking Directions:
Preheat oven to 425°F (220°C). Grease bottom of 9-inch springform pan.
Melt butter in medium microwave-safe bowl; add 3/4 cup cocoa and 1 cup sugar, stirring until well blended. Cool 5 minutes.
Stir in flour and vanilla; add egg yolks, one at a time, beating well after each addition.
Beat egg whites with remaining 1 tablespoon sugar in medium bowl until soft peaks form; gradually fold into chocolate mixture. Add chocolates. Spoon batter into prepared pan.
Bake 15 to 18 minutes or just until edges are firm (1-inch circle in center will be soft). With spatula, loosen cake from side of pan. Cool completely on wire rack; remove side of pan.
Cover; refrigerate at least 6 hours.
Sift 2 teaspoons cocoa over whipped topping; stir until well blended. Garnish cake with chocolate topping.
Cut cake while cold; garnish with additional chocolates.
Makes 10 servings.
Recipe and photograph courtesy of the Hershey Kitchens, and reprinted with permission of The Hershey Company. © The Hershey Company.