Chocolate-Strawberry Chiffon Squares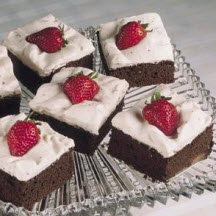 Delightful chocolate chiffon cake squares topped with luscious strawberry cream and garnished with a whole strawberry.
Recipe Ingredients:
1 1/2 cups cake flour
1 1/2 cups granulated sugar - divided use
1/2 cup HERSHEY'S Cocoa
3/4 teaspoon baking soda
1/2 teaspoon salt
1 cup buttermilk or sour milk*
1/2 cup vegetable oil
2 large eggs, separated
Strawberry Cream (recipe follows)
Fresh strawberries for garnish

Cooking Directions:
Preheat oven to 350°F (175°C). Grease and flour 13 x 9 x 2-inch baking pan.
Stir together flour, 1 cup sugar, cocoa, baking soda and salt in large bowl. Add buttermilk, oil and egg yolks; beat on medium speed of mixer until smooth.
Using clean beaters, beat egg whites in small bowl until soft peaks form; gradually add remaining 1/2 cup sugar, beating until stiff peaks form. Gently fold beaten egg whites into chocolate batter.
Pour batter into prepared pan.
Bake 30 to 35 minutes or until top springs back when touched lightly. Cool in pan on wire rack.
Just before serving, prepare Strawberry Cream; frost top of cake.
Cut into squares; garnish with strawberries. Cover; refrigerate leftover dessert.
Makes 10 to 12 servings.
*To sour milk: Use 1 tablespoon white vinegar plus milk to equal 1 cup.
Berry Cream: Place 1 cup sweetened sliced strawberries in blender container or food processor bowl; puree and measure 1/2 cup. Beat 1 cup cold whipping cream in small bowl until stiff; gently fold in strawberry puree, 1 teaspoon vanilla extract and, if desired, 2 to 3 drops red food color.
Recipe and photograph courtesy of the Hershey Kitchens, and reprinted with permission of The Hershey Company. © The Hershey Company.