Chocolate Strawberry Whipped Cream Cake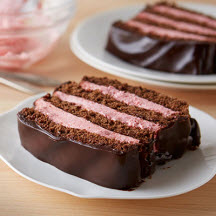 Four layers of chocolate sponge cake filled with strawberry whipped cream and topped with a chocolate glaze.
Recipe Ingredients:
3 large eggs
1 cup granulated sugar
1/3 cup water
1 teaspoon vanilla extract
3/4 cup all-purpose flour
1/4 cup HERSHEY'S SPECIAL DARK Cocoa or HERSHEY'S Cocoa
1 teaspoon baking powder
1/2 teaspoon salt
Strawberry Whipped Cream Filling (recipe follows)
Royal Glaze (recipe follows)

Cooking Directions:
Preheat oven to 375°F (190°C). Grease 15 1/2 x 10 1/2 x 1-inch jelly roll pan. Line with wax paper; grease paper.
Beat eggs in medium bowl on high speed until very thick and cream colored, about 5 minutes; gradually beat in sugar. Stir in water and vanilla.
Combine flour, cocoa, baking powder and salt; gradually add to egg mixture, beating just until blended. Pour into prepared pan.
Bake 10 to 13 minutes until wooden pick inserted in center comes out clean. Immediately invert pan onto linen towel sprinkled with powdered sugar; carefully peel off wax paper. Invert onto wire rack covered with wax paper. Cool completely.
Prepare Strawberry Whipped Cream Filling.
Cut cake into 4 equal rectangles, 10 x 3 1/2-inches.
Divide filling into thirds and spread evenly on 3 rectangles, leaving 1 plain rectangle for top. Cover and refrigerate until firm.
To assemble, stack layers on top of each other with plain cake layer on top.
Top with Royal Glaze; refrigerate until ready to serve. Cover; refrigerate leftover cake.
Makes 8 servings.
Strawberry Whipped Cream Filling: Rinse, hull and slice fresh strawberries to equal 1 cup. Puree strawberries with 1/4 cup HERSHEY'S Strawberry Syrup until liquid in food processor or blender. Sprinkle 1 (1/4-ounce) envelope unflavored gelatin over mixture. Let stand until gelatin is softened, about 5 minutes; puree again for several seconds. Pour into medium microwave-safe bowl; microwave at HIGH (100%) 30 seconds to 1 minute, until mixture is hot, not boiling, and gelatin is dissolved. Cool to room temperature. Beat 1 cup cold whipping cream until stiff; fold in strawberry mixture.
Royal Glaze: Place 2/3 cup HERSHEY'S Semi-Sweet Chocolate Chips and 1/4 cup whipping cream in small microwave-safe bowl. Microwave at HIGH 30 seconds to 1 minute until chips are melted and mixture is smooth when stirred. Cool slightly until thickened, 5 to 10 minutes.
Recipe and photograph courtesy of the Hershey Kitchens, and reprinted with permission of The Hershey Company. © The Hershey Company.