Creme de Cacao Torte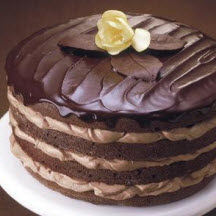 A splendid chocolate torte with a creme de cacao filling and topped with a chocolate ganache glaze.
Recipe Ingredients:
Cake:
2/3 cup butter or margarine, softened
1 2/3 cups granulated sugar
3 large eggs
1/2 teaspoon vanilla extract
2 cups all-purpose flour
2/3 cup HERSHEY'S Cocoa
1 1/4 teaspoons baking soda
1/4 teaspoon baking powder
1 1/3 cups milk
2 tablespoons creme de cacao (chocolate-flavored liqueur, optional)
Creme de Cacao Filling:
1 cup cold whipping cream
2 tablespoons creme de cacao (optional)
1 tablespoon HERSHEY'S Cocoa
Chocolate Ganache Glaze:
1 (7-ounce) HERSHEY'S SPECIAL DARK Chocolate Bar, broken into pieces
1/4 cup whipping cream
1 tablespoon butter
1 1/2 teaspoons creme de cacao (chocolate-flavored liqueur) or water
Cooking Directions:
For Cake: Preheat oven to 350°F (175°C).
Grease and flour two 9-inch round baking pans.
In large bowl, beat butter, sugar, eggs and vanilla until blended.
Stir together flour, cocoa, baking soda and baking powder; add to butter mixture alternately with milk, blending just until combined.
Pour batter into prepared pans.
Bake 30 to 35 minutes or until wooden pick inserted in center comes out clean. Cool 10 minutes; remove from pans to wire racks.
Sprinkle each layer with 1 tablespoon creme de cacao; cool completely.
Meanwhile, prepare Creme de Cacao Filling.
For Creme de Cacao Filling: In small bowl, beat whipping cream, creme de cacao and cocoa until stiff. Cover; refrigerate. Makes about 2 cups filling.
Split each cake layer horizontally into 2 layers. Place one layer on serving plate; spread with one-third of FILLING. Repeat layering with remaining cake and FILLING, ending with cake layer. Cover tightly; refrigerate at least 8 hours.
Prepare Chocolate Ganache Glaze; spoon on top of chilled cake, allowing glaze to drizzle down side of cake. Refrigerate.
For Chocolate Ganache Glaze: Combine chocolate bar pieces, whipping cream and butter in medium saucepan; cook over low heat, stirring constantly, until chocolate is melted and mixture is smooth. Stir in creme de cacao. Cool to lukewarm (glaze will be slightly thickened). Makes about 1 cup glaze.
Makes 10 to 12 servings.
Recipe and photograph courtesy of the Hershey Kitchens, and reprinted with permission of The Hershey Company. © The Hershey Company.