Cream-Filled Banana Cupcakes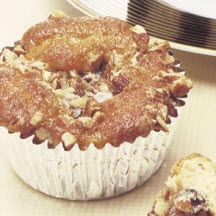 Easy banana cupcakes with creamy, cheesecake and mini chocolate chip-filled centers.
Recipe Ingredients:
Cream Cheese Filling:
1 (8-ounce) package cream cheese, softened
1/3 cup granulated sugar
1 large egg
1 cup HERSHEY'S MINI CHIPS Semi-Sweet Chocolate
Cupcakes:
1 (18.25-ounce) package banana cake mix
3/4 cup finely chopped nuts
2 tablespoons granulated sugar
Cooking Directions:
For Cream Cheese Filling: Beat cream cheese, sugar and egg in small bowl until smooth. Stir in small chocolate chips. Set aside.
For Cupcakes: Preheat oven to 350°F (175°C).
Line muffin cups (2 1/2-inches in diameter) with paper bake cups.
Prepare cake batter according to package directions.
Fill muffin cups 1/2 full with batter.
Spoon about 1 teaspoonful Cream Cheese Filling into center of each cupcake.
Stir together nuts and sugar; sprinkle about 1 teaspoonful over top of each cupcake.
Bake 20 minutes or until wooden pick inserted in cake portion comes out clean.
Remove from pan to wire rack. Cool completely.
Makes about 3 dozen cupcakes.
Recipe and photograph courtesy of the Hershey Kitchens, and reprinted with permission of The Hershey Company. © The Hershey Company.