Frosty Tunnels of Fudge Cake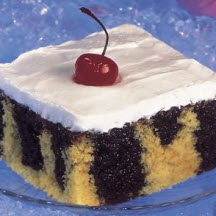 This simple recipe is a fudgey twist on classic poke cakes, using a jar of chocolate fudge topping, then easily frosted with whipped topping and a quick garnish of chocolate sprinkles.
Recipe Ingredients:
1 (18.25-ounce) package white or yellow cake mix
1 (16-ounce) jar HERSHEY'S Chocolate Shoppe Fudge Topping (Hot Fudge*, Double Chocolate Fudge or Fat Free Hot Fudge*)
1 (8-ounce) tub frozen non-dairy whipped topping, thawed
HERSHEY'S Chocolate Shoppe Sprinkles
Cooking Directions:
Prepare cake batter (according to package directions).
Bake in 13 x 9 x 2-inch baking pan (according to package directions). Remove from oven; do not remove cake from pan.
Using handle of wooden spoon, immediately poke holes through top of cake to bottom of pan, spacing holes about 1-inch apart, covering length and width of cake. Immediately spread or pour fudge topping evenly over cake, making sure entire top is covered and mixture has flowed into holes.
Cool completely on wire rack; spread whipped topping evenly over top of cake.
Cover cake; refrigerate several hours or overnight until well chilled.
Garnish with sprinkles. Cover; refrigerate leftover cake.
Makes 12 to 15 servings.
*Hot Fudge Variation: Bake and poke holes in cake as directed above. Place open jar HERSHEY'S Chocolate Shoppe Fudge Topping (Hot Fudge flavors) in microwave oven; heat as directed on label. Carefully spread fudge topping on cake; proceed as directed above.
Recipe and photograph courtesy of the Hershey Kitchens, and reprinted with permission of The Hershey Company. © The Hershey Company.