German Black Forest Cherry Torte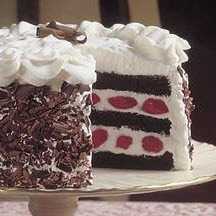 A splendid three layer chocolate sponge cake torte, laced with kirsch-flavored syrup, filled and frosted with sweetened whipped cream and maraschino cherries.
Recipe Ingredients:
2/3 cup unsalted butter
6 large eggs
1 cup granulated sugar
1 teaspoon vanilla extract
1/2 cup all-purpose flour
1/2 cup HERSHEY'S SPECIAL DARK Cocoa
1/4 cup light corn syrup
1/4 cup kirsch (cherry brandy)*
2 (10-ounce each) jars maraschino cherries, drained and rinsed
Whipped Cream Filling and Topping (recipe follows)
Cooking Directions:
Preheat oven to 350°F (175°C). Grease and flour three 8-inch round baking pans.
In small saucepan over very low heat, melt butter; remove from heat. Skim off milky solids and discard; reserve remaining butter.
In large bowl, on high speed, beat eggs, sugar and vanilla until mixture is thick, fluffy and very pale in color (about 10 minutes).
Stir together flour and cocoa; sprinkle several tablespoons over top of egg mixture. Gently fold into egg mixture; repeat procedure until all of cocoa mixture is combined with egg mixture. Fold in melted butter, several tablespoons at a time. Divide mixture evenly among prepared pans.
Bake 10 to 15 minutes or until wooden pick inserted in center comes out clean. Cool 5 minutes; with knife, loosen cake from sides of pans. Invert onto wire racks; cool completely.
Place cake layers on wax paper; with fork, poke holes about 1-inch apart through all layers. Stir together corn syrup and kirsch; sprinkle evenly over cake layers.
Lightly press cherries between layers of paper towels to remove excess moisture.
Prepare Whipped Cream Filling and Topping.
To assemble, place one layer on serving plate; spread with 1/2-inch layer of whipped cream. Place half of drained cherries over top, leaving 1-inch around edge free of cherries; with second layer, repeat procedure. Place third layer on top; frost and garnish top and sides with remaining whipped cream. Cover; refrigerate before serving.
Garnish as desired.
Makes 10 to 12 servings.
*Note: 1 tablespoon almond extract plus 3 tablespoons water can be substituted for kirsch.
Whipped Cream Filling and Topping: In large mixer bowl, beat 3 cups cold whipping cream, 1/2 cup powdered sugar and 1 teaspoon almond extract until stiff. Cover; refrigerate until ready to use.
Recipe and photograph courtesy of the Hershey Kitchens, and reprinted with permission of The Hershey Company. © The Hershey Company.