Hershey's Lavish Chocolate Cake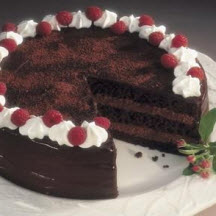 A splendid chocolate layer cake spread with black raspberry preserves, filled with cocoa mousse and topped with chocolate ganache.
Recipe Ingredients:
Cake:
1 1/4 cups all-purpose flour
1/3 cup HERSHEY'S Cocoa
1 teaspoon baking soda
Dash salt
1/2 cup butter
1 cup granulated sugar
1 cup milk
1 tablespoon white vinegar
1/2 teaspoon vanilla extract
2 to 4 tablespoons seedless black raspberry preserves
Cocoa Mousse Filling:
1 teaspoon unflavored gelatin
1 tablespoon cold water
2 tablespoons boiling water
1/2 cup granulated sugar
1/4 cup HERSHEY'S Cocoa
1 cup cold whipping cream
1 teaspoon vanilla extract
Chocolate Ganache:
1 cup whipping cream
1 1/2 cups HERSHEY'S Semi-Sweet Chocolate Chips
Sweetened whipped cream
Additional HERSHEY'S Cocoa (optional garnish)
Fresh raspberries (optional garnish)
Cooking Directions:
For Cake: Preheat oven to 350°F (175°C). Line bottom of three 8-inch round baking pans with wax paper. Lightly grease sides of pans.
Combine flour, cocoa, baking soda and salt; set aside.
Place butter in large microwave-safe bowl. Microwave at HIGH (100%) 1 minute or until melted; stir in sugar. Add milk, vinegar and vanilla to butter mixture; stir until blended.
Add dry ingredients; whisk until well blended. Pour batter evenly into prepared pans.
Bake 15 minutes or until wooden pick inserted in center comes out clean. Cool 10 minutes. Remove from pans to wire racks; gently peel off wax paper. Cool completely.
Prepare Cocoa Mousse Filling.
For Cocoa Mousse Filling: Sprinkle gelatin over cold water in small bowl; let stand 1 minute to soften. Add boiling water; stir until gelatin is completely dissolved and mixture is clear. Cool slightly. In small mixer bowl, stir together sugar and cocoa; add whipping cream and vanilla. Beat at medium speed of mixer, scraping bottom of bowl occasionally, until stiff; pour in gelatin mixture and beat until well blended. Refrigerate about 20 minutes. Makes about 2 cups filling.
Place one cake layer on serving plate; spread 2 tablespoons preserves over top. Carefully spread half of filling over preserves to within 1-inch of edge. Refrigerate about 10 minutes.
Place second layer on top; repeat procedure with remaining preserves and filling.
Place remaining layer on top. Refrigerate while preparing Chocolate Ganache.
For Chocolate Ganache: Heat 1 cup whipping cream in heavy saucepan over low heat until warm. Add 1 1/2 cups HERSHEY'S Semi-Sweet Chocolate Chips; stir constantly just until chips are melted and mixture is smooth. Do not let mixture come to a boil. Transfer mixture to medium bowl; refrigerate until of spreading consistency, about 1 1/2 hours.
Spread ganache over top and side of cake. Refrigerate at least 30 minutes.
At serving time, garnish with sweetened whipped cream; sift cocoa over top. Refrigerate leftover cake.
Makes 12 servings.
Recipe and photograph courtesy of the Hershey Kitchens, and reprinted with permission of The Hershey Company. © The Hershey Company.