Mini Chips Swirl Rum Cake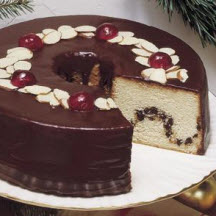 A swirl of mini chocolate chips runs throughout this butter rum-soaked tube cake with a shiny coat of chocolate glaze.
Recipe Ingredients:
1 cup butter or margarine, softened
2 cups granulated sugar
1 1/2 teaspoons vanilla extract
3 large eggs
3 cups all-purpose flour
2 teaspoons baking powder
1/2 teaspoon salt
1 cup milk
3/4 cup HERSHEY'S MINI CHIPS Semi-Sweet Chocolate Chips
1/2 cup finely chopped nuts
Butter Rum Syrup (recipe follows)
Chocolate Glaze (recipe follows)
Cooking Directions:
Preheat oven to 350°F (175°C). Grease and flour 10-inch tube pan or 12-cup fluted tube pan.
In large bowl, beat butter, sugar and vanilla until light and fluffy. Add eggs, one at a time, beating well after each addition.
Stir together flour, baking powder and salt; add alternately with milk to butter mixture, beating until smooth.
Remove 2 cups batter; set aside. Pour remaining batter into prepared pan.
In small bowl, stir together small chocolate chips and nuts; sprinkle evenly over batter in pan.
Spoon reserved batter over chip-nut mixture; carefully spread with spatula to cover.
Bake 65 to 75 minutes or until wooden pick inserted in center of cake comes out clean. Cool 10 minutes; remove from pan to wire rack.
Prepare Butter Rum Syrup. With fork, carefully pierce top and sides of warm cake. Gradually spoon or brush syrup onto cake. Allow syrup to dry and cake to cool completely.
Glaze with Chocolate Glaze.
Makes 12 to 16 servings.
Butter Rum Syrup: In small saucepan, stir together 1/2 cup granulated sugar, 2 tablespoons butter and 2 tablespoons water. Cook over medium heat, stirring occasionally, until mixture comes to full rolling boil; boil 2 minutes. Remove from heat; stir in 1/4 cup rum or 1 teaspoon rum extract plus water to equal 1/4 cup.
Chocolate Glaze: In small saucepan, combine 1/4 cup water and 3 tablespoons granulated sugar. Cook over low heat, stirring constantly, until mixture boils and sugar is dissolved. Remove from heat; stir in 1 cup HERSHEY'S MINI CHIPS Semi-Sweet Chocolate and 1/2 teaspoon vanilla extract. Beat with spoon or whisk until well blended. Cool 5 minutes or to spreading consistency. Use immediately.
Recipe and photograph courtesy of the Hershey Kitchens, and reprinted with permission of The Hershey Company. © The Hershey Company.