Mini Cocoa Cupcake Kabobs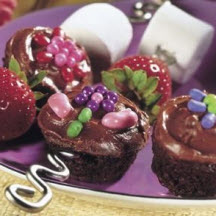 Skewer frosted miniature cupcakes together with strawberries and marshmallows for a fun dessert perfect for outdoor entertaining.
Recipe Ingredients:
Cupcakes:
1 cup granulated sugar
1 cup all-purpose flour
1/3 cup HERSHEY'S Cocoa
3/4 teaspoon baking powder
3/4 teaspoon baking soda
1/2 teaspoon salt
1 large egg
1/2 cup milk
1/4 cup vegetable oil
1 teaspoon vanilla extract
1/2 cup boiling water
Lickety-Split Cocoa Frosting:
3 tablespoons butter or margarine, softened
1/4 cup HERSHEY'S Cocoa
1 1/4 cups powdered sugar
2 to 3 tablespoons milk
1/2 teaspoon vanilla extract
For Kabobs:
Blue sprinkles or sugar nonpareils and/or decorating frosting
Wooden skewers
Marshmallows
Strawberries
Cooking Directions:
For Cupcakes: Preheat oven to 350°F (175°C). Spray small muffin cups (1 3/4-inches in diameter) with vegetable cooking spray.
Stir together sugar, flour, cocoa, baking powder, baking soda and salt in medium bowl. Add egg, milk, oil and vanilla; beat on medium speed of mixer 2 minutes.
Stir in boiling water (batter will be thin). Fill muffin cups about 2/3 full with batter.
Bake 10 minutes or until wooden pick inserted in center comes out clean. Cool slightly; remove from pans to wire racks. Cool completely.
Frost with Lickety-Split Cocoa Frosting.
For Lickety-Split Cocoa Frosting: Beat butter in small bowl until creamy. Add remaining ingredients; beat until smooth and of desired consistency. Makes about 1 cup frosting.
Garnish with blue sprinkles and/or white frosting piped onto cupcake in star pattern. Alternate cupcakes, marshmallows and strawberries on wooden skewers.
Makes about 4 dozen cupcakes.*
*Number of kabobs will be determined by length of skewer used and number of cupcakes, marshmallows and strawberries placed on each skewer.
Recipe and photograph courtesy of the Hershey Kitchens, and reprinted with permission of The Hershey Company. © The Hershey Company.