Old Fashioned Chocolate Cake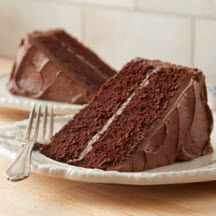 Old-fashioned never goes out of style when it comes to a good chocolate cake.
Recipe Ingredients:
4 1/2 (1-ounce each) bars HERSHEY'S Unsweetened Baking Chocolate, broken into pieces
1/2 cup water
3/4 cup butter, softened
2 1/4 cups granulated sugar
6 large eggs, separated
1 1/2 teaspoons vanilla extract
2 2/3 cups cake flour
3 teaspoons baking powder
3/4 teaspoon salt
3/4 cup milk
Cooking Directions:
Preheat oven to 350°F (175°C). Grease and flour 13 x 9 x 2-inch baking pan.
Combine chocolate and water in small saucepan. Cook over low heat, stirring occasionally, until chocolate is melted. Set aside to cool slightly.
Beat butter and sugar in large mixer bowl until light and fluffy. Add egg yolks and vanilla; beat well. Add chocolate; beat until blended.
Stir together flour, baking powder and salt; add alternately with milk to butter mixture.
Beat egg whites in medium bowl until stiff, but not dry; fold into batter. Pour batter into prepared pan.
Bake 45 to 50 minutes or until wooden pick inserted in center comes out clean. Cool completely in pan on wire rack.
Frost as desired.
Makes 12 to 15 servings.
Recipe and photograph courtesy of the Hershey Kitchens, and reprinted with permission of The Hershey Company. © The Hershey Company.