One-Bowl Chocolate Cake with Easy Orange Frosting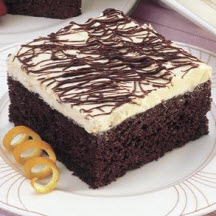 It doesn't get any easier than this recipe to make a great chocolate cake, and the easy orange frosting is even easier!
Recipe Ingredients:
2 cups all-purpose flour
1 1/2 cups granulated sugar
1/2 cup HERSHEY'S Cocoa or HERSHEY'S SPECIAL DARK Cocoa
1/2 cup butter or margarine, softened
1 cup water
3 large eggs
1 1/4 teaspoons baking powder
1 teaspoon baking soda
1 teaspoon vanilla extract
Easy Orange Frosting (recipe follows)
Chocolate Drizzle (recipe follows)
Cooking Directions:
Preheat oven to 350°F (175°C). Grease 13 x 9 x 2-inch baking pan.
In large bowl, place flour, sugar, cocoa, butter, water, eggs, baking powder, baking soda and vanilla; beat until smooth. Pour into prepared pan.
Bake 25 to 30 minutes or until wooden pick inserted in center comes out clean. Cool completely in pan on wire rack.
Frost with Easy Orange Frosting.
Drizzle with Chocolate Drizzle.
Makes 12 to 16 servings.
Easy Orange Frosting: Stir together 1 (16-ounce) container vanilla ready-to-spread frosting, 1/2 teaspoon orange extract, 1/8 teaspoon freshly grated orange peel and 1 or 2 drops each of red and yellow food color, if desired.
Chocolate Drizzle: In small microwave-safe bowl, place 1/4 cup HERSHEY'S Semi-Sweet Chocolate Chips and 1 1/2 teaspoons vegetable shortening (do not use butter, margarine or oil). Microwave at HIGH (100%) 15 to 30 seconds; stir. If necessary, microwave at HIGH additional 15 seconds at a time, stirring after each heating, just until chips are melted and mixture is smooth.
Recipe and photograph courtesy of the Hershey Kitchens, and reprinted with permission of The Hershey Company. © The Hershey Company.