Chocolate & Peanut Butter Truffles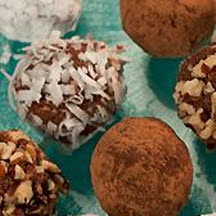 These super-easy chocolate and peanut butter truffles will make a wonderful addition to a holiday candy platter.
Recipe Ingredients:
3/4 cup butter (no substitutes)
1 cup REESE'S Peanut Butter Chips
1/2 cup HERSHEY'S Cocoa
1 (14-ounce) can sweetened condensed milk
1 tablespoon vanilla extract
HERSHEY'S Cocoa, finely chopped nuts, shredded coconut or graham cracker crumbs
Cooking Directions:
Melt butter and peanut butter chips in large saucepan over very low heat, stirring often. Add cocoa; stir until smooth.
Stir in sweetened condensed milk; stir constantly about 4 minutes or until mixture is thick and glossy. Remove from heat; stir in vanilla.
Refrigerate 2 hours or until firm enough to handle. Shape into 1-inch balls; roll in cocoa, nuts, coconut or graham cracker crumbs. Refrigerate until firm, about 1 hour. Store, covered, in refrigerator.
Makes about 3 1/2 dozen candies.
Recipe and photograph courtesy of the Hershey Kitchens, and reprinted with permission of The Hershey Company. © The Hershey Company.