Mocha Truffles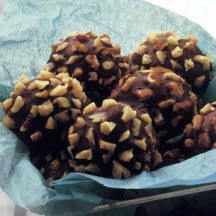 Mocha truffles are a rich and creamy indulgence for chocolate and coffee lovers.
Recipe Ingredients:
1/4 cup whipping cream
3 tablespoons granulated sugar
3 tablespoons butter
1 1/2 teaspoons powdered instant coffee
1/2 cup HERSHEY'S Semi-Sweet Chocolate Chips
1/2 teaspoon vanilla extract
Chopped nuts or HERSHEY'S Semi-Sweet Baking Chocolate, grated
Cooking Directions:
In small saucepan, combine whipping cream, sugar, butter and instant coffee. Cook over low heat, stirring constantly, just until mixture boils.
Remove from heat; immediately add chocolate chips. Stir until chips are melted and mixture is smooth when stirred; add vanilla.
Pour into small bowl; refrigerate, stirring occasionally, until mixture begins to set. Cover; refrigerate several hours or overnight to allow mixture to ripen and harden.
Form small amounts of mixture into 1/2-inch balls, working quickly to prevent melting; roll in nuts or chocolate. Cover; store in refrigerator. Serve chilled.
Makes about 1 1/2 dozen truffles.

Recipe and photograph courtesy of the Hershey Kitchens, and reprinted with permission of The Hershey Company. © The Hershey Company.