Chocolate-Peanut Butter Coated Apples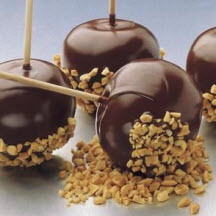 Peanut butter chips are the base for the easy candy coating for these apple-on-a-stick sweets. Candied apples make wonderful treats for fall parties.
Recipe Ingredients:
10 to 12 wooden popsicle sticks
10 to 12 medium apples, stems removed
1 2/3 cups (10-ounce package) REESE'S Peanut Butter Chips
1/2 cup vegetable oil
2/3 cup powdered sugar
2/3 cup HERSHEY'S Cocoa
MOUNDS Sweetened Coconut Flakes OR chopped REESE'S Peanut Butter Chips (optional)
Cooking Directions:
Insert wooden stick into each washed and dried apple.
Cover tray with wax paper.
Stir together peanut butter chips and oil in medium microwave-safe bowl. Microwave at HIGH 1 1/2 minutes or until chips are softened. Stir until melted. If necessary, microwave at HIGH an additional 15 seconds at a time, stirring after each heating, just until chips are melted when stirred.
Stir together powdered sugar and cocoa; gradually add to melted chip mixture, stirring until smooth. Microwave at HIGH 1 minute or until very warm.
Dip apples in mixture; twirl to remove excess coating. (If coating becomes too thick, return to microwave for a few seconds or add additional oil 1 teaspoon at a time.)
Roll lower half of coated apple in coconut or chopped chips, if desired.
Allow to cool on prepared tray. Refrigerate, if desired.
Makes 10 to 12 apples.
Recipe and photograph courtesy of the Hershey Kitchens, and reprinted with permission of The Hershey Company. © The Hershey Company.