Halloween Chocolate Cake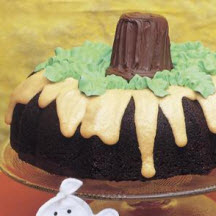 A fun Halloween chocolate cake decorated to look like a pumpkin.
Recipe Ingredients:
1 (6-ounce) HERSHEY'S Milk Chocolate Bar, broken into pieces
1/2 cup butter or margarine, softened
1 cup boiling water
2 cups all-purpose flour
1 1/2 cups granulated sugar
1/2 cup HERSHEY'S Cocoa
2 teaspoons baking soda
1 teaspoon salt
2 large eggs
1/2 cup dairy sour cream
1 teaspoon vanilla extract
CHOCOLATE COATED ICE CREAM CONE (recipe follows)
ORANGE FROSTING (recipe follows)
DECORATOR FROSTING (recipe follows)
Cooking Directions:
Preheat oven to 350°F (175°C). Grease and flour 12-cup fluted tube pan.
Stir together chocolate bar pieces, butter and water in medium bowl until chocolate is melted.
Stir together flour, sugar, cocoa, baking soda and salt in large bowl; gradually add butter mixture, beating until well blended. Add eggs, sour cream and vanilla; beat on medium speed 1 minute. Pour batter into prepared pan.
Bake 50 to 55 minutes or until wooden pick inserted in center of cake comes out clean. Cool 10 minutes; remove from pan to wire rack. Cool completely.
Meanwhile, prepare CHOCOLATE COATED ICE CREAM CONE.
Drizzle ORANGE FROSTING over cake. Place ice cream cone into center of cake for pumpkin stem. Using leaf decorating tip, pipe leaves onto 'pumpkin' with DECORATOR FROSTING.
Makes 10 to 12 servings.
CHOCOLATE COATED ICE CREAM CONE: Place 1 cup HERSHEY'S Semi-Sweet Chocolate Chips and 1 tablespoon shortening (do not use butter, margarine, spread or oil) in small microwave-safe bowl. Microwave at HIGH (100%) 1 to 1 1/2 minutes or just until chips are melted and mixture is smooth when stirred. Spoon melted chocolate over outside of flat-bottom ice cream cone. Refrigerate until chocolate is firm, about 30 minutes.
ORANGE FROSTING: Place 1/3 cup butter or margarine in microwave-safe bowl. Microwave at HIGH (100%) 1 minute or until melted. Stir in 2 cups powdered sugar, 2 teaspoons freshly grated orange peel and 1 1/2 teaspoons vanilla extract. Stir in 2 to 4 tablespoons hot water for desired consistency. Stir in red and yellow food color for desired color.
DECORATOR FROSTING: Combine 3 tablespoons water and 1 tablespoon meringue powder in small bowl. Add 1 1/2 cups powdered sugar and 1/8 teaspoon vanilla extract; beat on high speed of mixer until stiff. Stir in green food color for desired color.
Recipe and photograph courtesy of the Hershey Kitchens, and reprinted with permission of The Hershey Company. © The Hershey Company.