Halloween Coffin Cake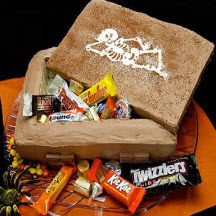 The center of this just-for-fun Halloween coffin cake is filled with assorted wrapped candies.
Recipe Ingredients:
2 (16-ounce each) boxes pound cake mix
1 (18-ounce) package refrigerated sugar cookie dough
3/4 cup all-purpose flour
8 (1.55 ounce each) HERSHEY'S COOKIES 'N' CREME Candy Bars
2 (16-ounce each) cans vanilla ready-to-spread frosting
2 tablespoons HERSHEY'S Cocoa
Assorted Candies: REESE'S Peanut Butter Cups Miniatures, HERSHEY'S KISSES Brand Milk Chocolates, HERSHEY'S HUGS Brand Chocolates, HERSHEY'S NUGGETS Chocolates, ROLO Caramels in Milk Chocolate, HERSHEY'S Classic Caramels, TWIZZLERS Candy, ALMOND JOY Miniatures, MOUNDS Miniatures
Wooden popsicle sticks (optional)
TWIZZLERS PULL-N-PEEL Candy (optional)
Cooking Directions:
Preheat oven to 350°F (175°C). Generously grease and lightly flour 13 X 9 x 2-inch baking pan.
Combine both boxes of cake mix in large bowl. Prepare according to package directions, using water and eggs needed for the two packages of mix . Pour batter into prepared pan. Bake 45 to 50 minutes or until wooden pick inserted in center comes out clean. Cool 10 minutes; remove pan from pan to wire rack. Cool completely.
Lightly grease cookie sheet. Stir together cookie dough and flour with clean hands or spoon until well combined. Roll cookie dough on prepared cookie sheet to 12 x 8-inch rectangle. Bake 15 to 20 minutes or until lightly browned. Cool slightly. Using large spatula, carefully remove cookie to wire rack. Cool completely. This will be the lid of the coffin.
Place cake on large tray. With knife, mark 1-inch from each edge of cake. With fork, scoop out center of cake to within 1-inch from sides and bottom. (Cake pieces removed from center can be used for another purpose.)
Unwrap COOKIES 'N' CREME bars; line inside of coffin with bar pieces.
Combine frosting and cocoa in medium bowl, stirring until well blended. Frost entire outside of coffin and top of lid.
Fill center of coffin with assorted wrapped candies. Unwrap some candies and decorate lid, if desired.
Prop up one side of lid with wooden popsicle sticks wrapped with PULL-N-PEEL Candy, if desired.
Makes about 15 servings.
Recipe and photograph courtesy of the Hershey Kitchens, and reprinted with permission of The Hershey Company. © The Hershey Company.