Hershey's Gridiron Cake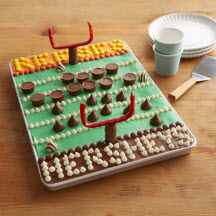 A fun chocolate sheet cake decorated to look like a football field with the two teams represented by candy Kisses and mini peanut butter cups.
Recipe Ingredients:
Gridiron Cake:
1 cup water
1 cup butter or margarine
1/2 cup HERSHEY'S Cocoa
2 cups granulated sugar
1 3/4 cups all-purpose flour
1 teaspoon baking soda
1/2 teaspoon salt
3 large eggs
3/4 cup dairy sour cream
For Decorating Cake:
Green, red and yellow food color
1 (16-ounce) can creamy vanilla ready-to-spread frosting - divided use
1 tablespoon HERSHEY'S Cocoa
1 2/3 cups HERSHEY'S Premier White Chips
1 (8-ounce) package REESE'S PIECES Candy
11 HERSHEY'S KISSES Brand Milk Chocolates
11 REESE'S Peanut Butter Cups Miniatures
3 HERSHEY'S HUGS Brand Chocolates
6 ROLO Caramels in Milk Chocolate
2 TWIZZLERS Strawberry Twists
GRIDIRON CAKE (recipe follows)
Cooking Directions:
For Gridiron Cake: Preheat oven to 350°F (175°C). Grease and flour 15 1/2 x 10 1/2 x 1-inch disposable foil baking pan or jelly-roll pan.
Combine water, butter and cocoa in medium saucepan. Cook over medium heat, stirring occasionally, until mixture boils. Boil 1 minute. Remove from heat; set aside.
Stir together sugar, flour, baking soda and salt in large bowl. Add eggs and sour cream; beat until blended. Add cocoa mixture; beat just until blended (batter will be thin). Pour into prepared pan.
Bake 25 to 30 minutes or until wooden pick inserted in center comes out clean. Cool cake in pan on wire rack.
To Decorate Cake: For chocolate frosting, stir cocoa into 1/3 cup frosting; stir until smooth. Tint 1/3 cup frosting orange with 1 drop red food color and 2 drops yellow food color; stir until blended. Tint remaining frosting green with 2 or 3 drops green food color; stir until blended.
Mark "end zones", 2 inches wide at each end of cake, using wooden pick; frost one end zone with chocolate frosting and the other end zone with orange frosting. Frost the area between end zones with green frosting; mark 5 yard lines with wooden pick. Place white chips all across cake on yard lines.
Use white chips to spell out "HERSHEY'S" on chocolate end zone; use brown REESE'S PIECES on the goal line. Use yellow REESE'S PIECES to spell out "REESE'S" on orange end zone. Use orange REESE'S PIECES on the goal line.
Remove wrappers from chocolates and peanut butter cups. Arrange teams on cake playing field, using HERSHEY'S KISSES Brand Milk Chocolates as one team and peanut butter cups as second team. Place HERSHEY'S HUGS Brand Chocolates as referee officials on the field.
Unwrap ROLOs; for goal posts, stack 3 ROLOs in the middle of each goal line on each side of field. Shape strawberry twists into "U" shapes for goal posts. "Glue" with frosting to top of each stack of ROLOs.
Makes 18 servings.
Recipe and photograph courtesy of the Hershey Kitchens, and reprinted with permission of The Hershey Company. © The Hershey Company.