Hershey's Hugs & Kisses Valentine's Cake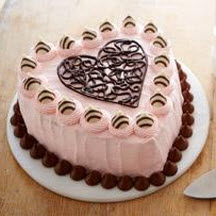 Perfect for Valentine's Day, this heart-shaped cake is frosted with pink whipped cream frosting and decorated with a drizzle of melted chocolate and Hershey's Hugs and Kisses.
Recipe Ingredients:
1 (13-ounce) bag HERSHEY'S HUGS Brand Chocolates - divided use
1 (13-ounce) bag HERSHEY'S KISSES Brand Milk Chocolates - divided use
3/4 cup butter or margarine, softened
2/3 cup granulated sugar
2/3 cup packed light brown sugar
1 1/2 teaspoons vanilla extract
3 large eggs
2 1/2 cups all-purpose flour
2 teaspoons baking powder
1/2 teaspoon salt
1 cup milk
1/3 cup HERSHEY'S Semi-Sweet Chocolate Chips
1 teaspoon shortening
WHIPPED CREAM FROSTING (recipe follows)
Cooking Directions:
Preheat oven to 350°F (175°C). Grease and line bottoms of two 9-inch heart-shaped baking pans with wax paper.*
Remove wrappers from 24 HERSHEY'S HUGS Brand Chocolates and 24 HERSHEY'S KISSES Brand Milk Chocolates; chop into 1/4-inch pieces.
Beat butter, granulated sugar, brown sugar and vanilla in large bowl until creamy. Add eggs; beat well.
Stir together flour, baking powder and salt. Add flour mixture alternately with milk to butter mixture, beating well after each addition. Stir in chopped chocolate. Pour batter into prepared pans.
Bake 25 to 30 minutes or until wooden pick inserted in center comes out clean. Cool 10 minutes in pans on wire racks. Remove from pans; cool completely.
Place chocolate chips and shortening in small microwave-safe bowl. Microwave at HIGH (100%) 30 seconds to 1 minute or until chocolate is melted when stirred.
Trace 5-inch heart shape on paper; place wax paper over top. Place melted chip mixture in bottom of sturdy seal-top plastic bag; using scissors, snip off small corner at bottom. Pipe melted chocolate over heart; refrigerate until firm.
Prepare WHIPPED CREAM FROSTING; reserve 1 cup. Frost between layers, sides and top of cake.
Place reserved frosting in a clean sturdy seal-top plastic bag with star tip; pipe rosettes along top of cake.
Unwrap 17 HERSHEY'S HUGS Brand Chocolates; place on top of rosettes.
Unwrap 32 HERSHEY'S KISSES Brand Milk Chocolates; place along bottom edge of cake. Remove chocolate heart from wax paper; place in center of cake. Cover and refrigerate cake.
Makes 10 servings.
*Two 9-inch round baking pans can be used in place of heart-shaped pans, if desired.
WHIPPED CREAM FROSTING: Place 1 tablespoon cold water in small cup; sprinkle 1 teaspoon unflavored gelatin over top. Let stand several minutes to soften. Stir in 2 tablespoons boiling water until gelatin is completely dissolved and mixture is clear. Beat 2 cups cold whipping cream and 1/3 cup powdered sugar in large bowl until stiff. Pour in gelatin mixture; beat until well blended and thickened. Stir in 5 drops red food color, if desired. Makes about 4 cups frosting.
Recipe and photograph courtesy of the Hershey Kitchens, and reprinted with permission of The Hershey Company. © The Hershey Company.