Holiday Fudge Cake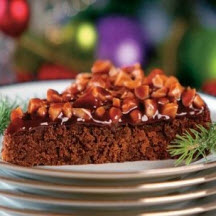 A festive holiday chocolate fudge torte topped with a nutty chocolate glaze.
Recipe Ingredients:
1 cup all-purpose flour
3/4 cup granulated sugar
1/4 cup HERSHEY'S Cocoa
1 1/2 teaspoons powdered instant coffee
3/4 teaspoon baking soda
1/4 teaspoon salt
1/2 cup butter or margarine, softened
3/4 cup dairy sour cream
1 large egg
1/2 teaspoon vanilla extract
FUDGE NUT GLAZE:
1/2 cup whipping cream
1/4 cup granulated sugar
1 tablespoon butter
1 1/2 teaspoons light corn syrup
1/3 cup HERSHEY'S Semi-Sweet Chocolate Chips
3/4 cup hazelnuts, macadamia nuts or pecans
1/2 teaspoon vanilla extract
Cooking Directions:
Preheat oven to 350°F (175°C). Grease 9-inch round baking pan; line bottom with wax paper. Grease paper; flour paper and pan.
In large bowl, stir together flour, sugar, cocoa, instant coffee, baking soda and salt. Add butter, sour cream, egg and vanilla; beat on low speed of electric mixer until blended. Increase speed to medium; beat 3 minutes. Pour batter into prepared pan.
Bake 30 to 35 minutes or until wooden pick inserted in center comes out clean. Cool 10 minutes. Remove from pan to wire rack; gently peel off wax paper. Cool completely.
Prepare FUDGE NUT GLAZE. Place cake on serving plate; pour glaze evenly over cake, allowing some to run down sides. Arrange nuts in decorative design on top. Refrigerate until glaze is firm, about 1 hour.
FOR FUDGE NUT GLAZE: In small saucepan, combine ingredients except nuts and vanilla. Cook over medium heat, stirring constantly, until mixture boils. Continue to cook, stirring constantly, 5 minutes. Remove from heat. Cool 10 minutes; stir in nuts and vanilla.
Makes 8 to 10 servings.
Recipe and photograph courtesy of the Hershey Kitchens, and reprinted with permission of The Hershey Company. © The Hershey Company.