Passover Chocolate Almond-Orange Cake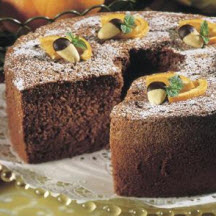 A splendid orange-scented chocolate-almond chiffon cake served with a cocoa-infused orange sauce.
Recipe Ingredients:
1/2 cup sliced almonds, toasted*
7 large eggs, separated
1 1/4 cups granulated sugar - divided use
1 tablespoon water
1/4 teaspoon freshly grated orange peel
1/3 cup potato starch
1/3 cup HERSHEY'S Cocoa
1/4 cup cake meal
1/4 teaspoon salt
Whole blanched almonds and strips of orange peel (optional garnish)
COCOA-ORANGE SAUCE (recipe follows; optional)
Cooking Directions:
Preheat oven to 300°F (150°C).
Place toasted almonds in food processor bowl; cover and process just until finely ground. Set aside.
Beat egg yolks in large bowl until thick and lemon colored. Gradually add 1 cup sugar, beating until thick. Stir in water and orange peel.
Stir together potato starch, cocoa and cake meal; fold into yolk mixture. Fold in ground almonds.
Beat egg whites and salt in separate large bowl on medium speed until foamy. Gradually add remaining 1/4 cup sugar in small amounts, beating until stiff peaks form. Gently fold about 1 cup egg white mixture into yolk mixture; fold all yolk mixture into remaining whites. Pour into ungreased 10-inch tube pan; spread evenly.
Bake 30 minutes. Without opening oven door, increase oven temperature to 325°F (160°C). Bake 15 minutes or until top springs back when touched lightly. Invert cake on heat-proof funnel or bottle. Cool completely.
Carefully run knife along side of pan to loosen cake; remove from pan. Garnish as desired.
Serve with COCOA-ORANGE SAUCE, if desired.
Makes 12 to 16 servings.
* To toast almonds: Preheat oven to 350°F (175°C). Spread almonds in thin layer in shallow baking pan. Bake 8 to 10 minutes, stirring occasionally, until light golden brown; cool.
COCOA-ORANGE SAUCE: Combine 1 cup granulated sugar and 1/2 cup HERSHEY'S Cocoa in medium saucepan. Add 2/3 cup water. Cook over medium heat, stirring constantly, until mixture comes to full boil; boil, stirring occasionally, about 5 minutes. Add 1/4 to 3/4 teaspoon freshly grated orange peel; cook 1 minute. Cool to room temperature. Makes about 1 cup sauce.
Recipe and photograph courtesy of the Hershey Kitchens, and reprinted with permission of The Hershey Company. © The Hershey Company.