Passover Cocoa Sponge Cake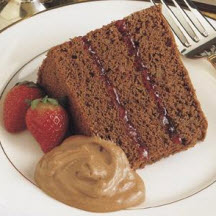 This luscious chocolate almond sponge cake is split in three layers, filled with your choice of fruit preserves and served with heaping spoonfuls of cocoa-infused cream for a dairy meal.
Recipe Ingredients:
7 large eggs, separated
1/4 teaspoon salt
1 1/4 cups granulated sugar - divided use
2 tablespoons water
1 tablespoon orange juice
1/3 cup HERSHEY'S Cocoa
1/4 cup cake meal
1/4 cup potato starch
1/2 cup ground almonds
1 cup preserves (apricot, raspberry or strawberry)
COCOA CREAM (recipe follows)
Cooking Directions:
Preheat oven to 325°F (160°C).
Beat egg whites with salt in large bowl on medium speed of mixer until soft peaks form. Gradually add 1 cup sugar, beating on high speed until stiff peaks form. Set aside.
Beat egg yolks in medium bowl until blended. Gradually add remaining 1/4 cup sugar; continue beating until thick and lemon colored, about 3 minutes. Add water and orange juice; blend well. Gradually add egg yolk mixture to egg whites, folding with rubber spatula until blended.
In sieve, place cocoa, cake meal and potato starch; gradually sift over egg mixture, folding gently after each addition until blended. Fold in almonds. Spoon batter into ungreased 10-inch tube pan.
Bake 50 to 55 minutes or until cake springs back when touched lightly near center. Immediately invert pan on heat-proof funnel or bottle. Cool completely. Carefully run knife along side of pan to loosen cake; remove from pan. With long serrated knife, split cake horizontally in thirds. Spread preserves between layers. Serve with heaping spoonful of COCOA CREAM for a dairy meal.
Makes 12 servings.
COCOA CREAM: Stir together 1/2 cup granulated sugar and 1/4 cup HERSHEY'S Cocoa in medium bowl. Add 1 cup cold whipping cream and 1 teaspoon vanilla extract. Beat until slightly stiffened. Makes about 2 cups.
Recipe and photograph courtesy of the Hershey Kitchens, and reprinted with permission of The Hershey Company. © The Hershey Company.