Quarterback Blitz Bars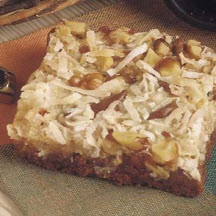 Score extra points with game fans when you serve these winning bars.
Recipe Ingredients:
1 cup butter or margarine
2 1/4 cups graham cracker crumbs
1/3 cup HERSHEY'S Cocoa
3 tablespoons granulated sugar
1 (14-ounce) can sweetened condensed milk (not evaporated milk)
1 cup HERSHEY'S MINI KISSES Brand Milk Chocolates
1 cup HEATH BITS 'O BRICKLE Toffee Bits
1 cup chopped walnuts
1 cup MOUNDS Sweetened Coconut Flakes
Cooking Directions:
Preheat oven to 350°F (175°C). Place butter in 13 x 9 x 2-inch baking pan; heat in oven until melted. Remove from oven.
Stir together graham cracker crumbs, cocoa and sugar; sprinkle over melted butter. Stir mixture until evenly coated; press evenly with spatula onto bottom of pan.
Pour sweetened condensed milk evenly over crumb mixture. Sprinkle with chocolates and toffee bits. Sprinkle nuts and coconut on top; press down firmly.
Bake 25 to 30 minutes or until lightly browned. Cool completely in pan on wire rack. Cover with foil; let stand at room temperature several hours. Cut into bars.
Makes about 36 bars.
Recipe and photograph courtesy of the Hershey Kitchens, and reprinted with permission of The Hershey Company. © The Hershey Company.