Sweetheart Layer Bars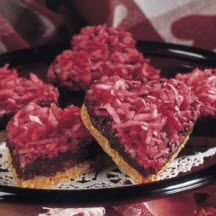 These scrumptious sweetheart bars have a crushed pretzel crust topped with a chocolate filling and garnished with pink tinted coconut. They can be cut into hearts or squares.
Recipe Ingredients:
1 cup butter or margarine - divided use
1 1/2 cups finely crushed unsalted thin pretzels or pretzel sticks
1 cup HERSHEY'S MINI KISSES Brand Milk Chocolates
1 (14-ounce) can sweetened condensed milk (not evaporated milk)
3/4 cup HERSHEY'S Cocoa
2 cups MOUNDS Sweetened Coconut Flakes, tinted pink*
Cooking Directions:
Preheat oven to 350°F (175°C).
Put 3/4 cup butter in 13 x 9 x 2-inch baking pan; place in oven just until butter melts. Remove from oven. Stir in crushed pretzels; press evenly into bottom of pan. Sprinkle chocolates over pretzel layer.
Place sweetened condensed milk, cocoa and remaining 1/4 cup butter in small microwave-safe bowl. Microwave at HIGH (100%) 1 to 1 1/2 minutes or until mixture is melted and smooth when stirred; carefully pour over pretzel layer in pan. Top with coconut; press firmly down onto chocolate layer.
Bake 25 to 30 minutes or until lightly browned around edges. Cool completely in pan on wire rack. Cut into heart-shaped pieces with cookie cutters or cut into bars.
Makes about 36 bars.
*PINK COCONUT: Place 1 teaspoon water and 1/2 teaspoon red food color in small bowl; stir in 2 cups MOUNDS Sweetened Coconut Flakes. With fork, toss until evenly coated. Use immediately.
Recipe and photograph courtesy of the Hershey Kitchens, and reprinted with permission of The Hershey Company. © The Hershey Company.