Winter Wonderland Snowmen Brownies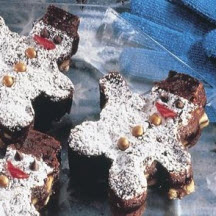 These are easy holiday treats, homemade brownies cut-out into snowmen shapes and sprinkled with powdered sugar, or cut-out other fun shapes to fit the occasion.
Recipe Ingredients:
3/4 cup HERSHEY'S Cocoa or HERSHEY'S SPECIAL DARK Cocoa
1/2 teaspoon baking soda
2/3 cup butter or margarine, melted and divided use
1/2 cup boiling water
2 cups granulated sugar
2 large eggs
1 teaspoon vanilla extract
1 1/2 cups all-purpose flour
1 2/3 cups (10-ounce package) REESE'S Peanut Butter Chips
Powdered sugar(optional)
Cooking Directions:
Preheat oven to 350°F (175°C). Line 13 x 9 x 2-inch baking pan with foil; grease foil.
Stir together cocoa and baking soda in large bowl; stir in 1/3 cup melted butter. Add boiling water; stir until mixture thickens. Stir in sugar, eggs, vanilla and remaining 1/3 cup butter; stir until smooth. Add flour; stir until blended. Stir in peanut butter chips. Pour into prepared pan.
Bake 35 to 40 minutes or until brownies begin to pull away from sides of foil. Cool completely in pan. Cover; refrigerate until firm. Remove from pan; remove foil. Cut into shapes with cookie cutters, or cut into squares. Just before serving, sprinkle with powdered sugar.
Makes about 12 large brownies or 36 squares.
Recipe and photograph courtesy of the Hershey Kitchens, and reprinted with permission of The Hershey Company. © The Hershey Company.