Italian Cream Soda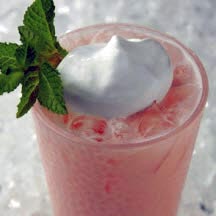 Easily turn your kitchen into a specialty soda parlor when you serve this deliciously simple-to-make Italian cream soda!
Recipe Ingredients:
3 tablespoons (1 1/2 ounces) HERSHEY'S Strawberry Syrup
3 tablespoons (1 1/2 ounces) heavy cream or half-and-half
1 cup crushed ice
12 ounces club soda , chilled
3 tablespoons sweetened whipped cream or topping
Cooking Directions:
Stir together strawberry syrup and cream in 12 ounce glass.
Add ice.
Fill glass with club soda; stir. Garnish with whipped cream. Serve immediately.
Makes 1 serving.
Recipe and photograph courtesy of the Hershey Kitchens, and reprinted with permission of The Hershey Company. © The Hershey Company.