Orange Cocoa Cake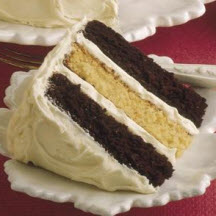 This orange-scented three layer cake, filled and frosted with orange buttercream frosting, is a lovely way to end a memorable meal.
Recipe Ingredients:
Cake:
1/2 cup HERSHEY'S Cocoa
1/2 cup boiling water
1/4 cup butter or margarine, softened
1/4 cup vegetable shortening
2 cups granulated sugar
1/8 teaspoon salt
1 teaspoon vanilla extract
2 large eggs
1 1/2 teaspoons plus 1/8 teaspoon baking soda - divided use
1 cup plus 3 tablespoons buttermilk or sour milk - divided use*
1 3/4 cups all-purpose flour
3/4 teaspoon freshly grated orange peel
1/4 teaspoon orange extract
Orange Buttercream Frosting:
2/3 cup butter or margarine, softened
6 cups powdered sugar - divided use
2 teaspoons freshly grated orange peel
1 1/2 teaspoons vanilla extract
4 to 6 tablespoons milk
Cooking Directions:
For Cake: Preheat oven to 350°F (175°C). Grease three 8 or 9-inch round baking pans; line with wax paper.
Stir together cocoa and water in small bowl until smooth; set aside.
Beat butter, shortening, sugar, salt and vanilla in large bowl until well blended. Add eggs; beat well.
Stir 1 1/2 teaspoons baking soda into 1 cup buttermilk; add to butter mixture alternately with flour.
Measure 1 2/3 cups batter into small bowl; stir in remaining 1/8 teaspoon baking soda and 3 tablespoons buttermilk, orange peel and orange extract. Pour into one prepared pan.
Stir cocoa mixture into batter; divide evenly between remaining two prepared pans.
Bake 25 to 30 minutes or until wooden pick inserted in center comes out clean. Cool 10 minutes; remove from pans to wire racks. Carefully peel off wax paper. Cool completely.
Place one chocolate layer on serving plate; spread with Orange Buttercream Frosting. Top with orange layer; spread with frosting. Top with remaining chocolate layer; frost top and sides of cake.
For Orange Buttercream Frosting: Beat butter, 1 cup powdered sugar, orange peel and vanilla in large bowl until creamy. Add remaining powdered sugar alternately with milk, beating to spreading consistency.
Makes 10 to 12 servings.
*To sour milk: Use 1 tablespoon white vinegar plus milk to equal 1 cup; use 1/2 teaspoon white vinegar plus milk to equal 3 tablespoons.
Recipe and photograph courtesy of the Hershey Kitchens, and reprinted with permission of The Hershey Company. © The Hershey Company.