Cashew Macadamia Crunch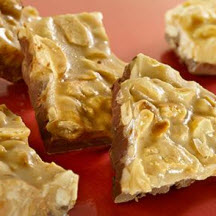 Sweet, salty, crunchy and chocolaty, this candy is sure to please everyone.
Recipe Ingredients:
2 cups (11.5-ounce package) HERSHEY'S Milk Chocolate Chips
3/4 cup coarsely chopped salted or unsalted cashews
3/4 cup coarsely chopped salted or unsalted macadamia nuts
1/2 cup butter, softened
1/2 cup granulated sugar
2 tablespoons light corn syrup
Cooking Directions:
Line 9-inch square pan with foil, extending foil over edges of pan; butter foil.
Cover bottom of prepared pan with chocolate chips.
Combine cashews, macadamia nuts, butter, sugar and corn syrup in large heavy skillet; cook over low heat, stirring constantly, until butter is melted and sugar is dissolved. Increase heat to medium; cook, stirring constantly, until mixture begins to cling together and turns golden brown.
Pour mixture over chocolate chips in pan, spreading evenly. Cool. refrigerate until chocolate is firm.
Remove from pan; peel off foil. Break into pieces. Store tightly covered in cool, dry place.
Makes about 1 1/2 pounds candy.
Recipe and photograph courtesy of the Hershey Kitchens, and reprinted with permission of The Hershey Company. © The Hershey Company.