Special Dark and Macadamia Toffee Crunch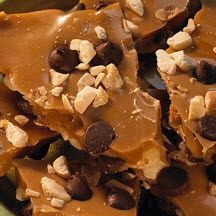 Crunchy, buttery toffee studded with dark chocolate chips and pieces of macadamia nuts.
Recipe Ingredients:
1 cup HERSHEY'S SPECIAL DARK Chips
1/2 cup MAUNA LOA Macadamia Nut Baking Pieces
3/4 cup butter
3/4 cup granulated sugar
3 tablespoons light corn syrup
Cooking Directions:
Line 8 or 9-inch square or round pan with foil; extending foil over edges of pan; butter foil.
Stir together chocolate chips and nuts. Reserve 2 tablespoons chocolate chip and nut mixture; sprinkle remaining chip mixture over bottom of prepared pan.
Combine butter, sugar and corn syrup in medium heavy saucepan; cook over low heat, stirring constantly, until butter is melted and sugar is dissolved.
Increase heat to medium; cook, stirring constantly, until mixture boils. Cook and stir until mixture turns a light caramel color (about 15 minutes).
Immediately pour mixture over chip and nut mixture in pan, spreading evenly.
Sprinkle reserved 2 tablespoons chip mixture over surface. Cool. Refrigerate until chocolate is firm. Remove from pan; peel off foil. Break into pieces. Store tightly covered in cool, dry place.
Makes 1 pound candy.
White Chip and Macadamia Toffee Crunch: Substitute 1 cup HERSHEY'S Premier White Chips for HERSHEY'S SPECIAL DARK Chips. Proceed as above.
Recipe and photograph courtesy of the Hershey Kitchens, and reprinted with permission of The Hershey Company. © The Hershey Company.