Chocolate Nuggets Flower Basket Cake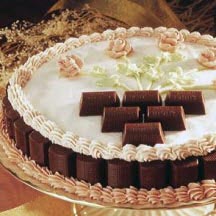 Decorating this pretty cake is easier than it looks.
Recipe Ingredients:
1 (9-inch) round cake layer, baked
1 (16-ounce) container vanilla frosting
1 (13-ounce) package HERSHEY'S NUGGETS
1 (4.25-ounce) tube green decorating icing
Cake decorating icing flowers
1 (4.25-ounce) tube another color decorating icing
Cooking Directions:
Frost top and sides of cake. Remove wrappers from chocolate pieces.
Place chocolates, upright, flat sides on frosting, sides of chocolate touching around entire side of cake. To form basket on top of cake, place 1 chocolate, sideways, flat side on frosting, near edge. For second row, center 2 chocolates, flat sides on frosting, above first chocolate; complete third row with 3 chocolates.
Following directions on tube, pipe green stems and leaves, onto frosting, as if coming out of basket top; place icing flowers at stem ends.
Pipe border with another color icing around top and bottom edge of cake.
Makes about 12 servings.
Recipe and photograph courtesy of the Hershey Kitchens, and reprinted with permission of The Hershey Company. © The Hershey Company.