Here's my Heart Fudge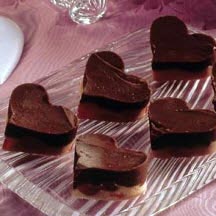 A sweetheart of a double decker fudge, the bottom layer of white fudge, laced with candied red cherries, is topped with a chocolate fudge layer, and when firm, is cut with heart-shaped cookie cutters for Valentine's Day, or into squares for other occasions.
Recipe Ingredients:
2 cups (12-ounce package) HERSHEY'S Premier White Chips - divided use
1 teaspoon almond extract
1/2 cup HERSHEY'S Cocoa or HERSHEY'S SPECIAL DARK Cocoa
1/4 cup (1/2 stick) butter or margarine, melted
1 teaspoon vanilla extract
4 1/2 cups granulated sugar
1 jar (7 ounce) marshmallow creme
1 1/2 cups (12-ounce can) evaporated milk
1/4 cup (1/2 stick) butter or margarine
1 cup candied red cherries, quartered
Few drops red food color (optional)
Cooking Directions:
Line 13x9x2-inch pan with foil.
Place 1 cup white chips and almond extract in medium bowl.
In second medium bowl, stir together cocoa, 1/4 cup melted butter and vanilla extract until mixture is smooth; add remaining 1 cup white chips (chips do not need to melt).
Combine sugar, marshmallow creme, evaporated milk and 1/4 cup butter in heavy 4-quart saucepan. Cook over medium heat, stirring constantly, until mixture comes to full rolling boil (bubbles can't be stirred down); continue boiling and stirring 5 minutes. Remove from heat. Immediately add half of hot mixture to bowl with white chips only. Pour remainder into cocoa mixture; stir to blend.
Beat white chip mixture until chips are completely melted; stir in cherries. Add red food color, if desired. Spread evenly in prepared pan.
Beat cocoa mixture until chips are melted and mixture thickens slightly. Spread evenly over top of white chip layer.
Cover; refrigerate until firm. Remove from pan; peel off foil. Cut with heart-shaped cookie cutters or cut into squares. Cover; store in refrigerator.
Makes about 8 dozen squares.
Note: For best results, do not double this recipe.
Recipe and photograph courtesy of the Hershey Kitchens, and reprinted with permission of The Hershey Company. © The Hershey Company.