Kisses Candy Twists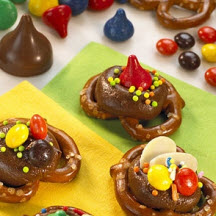 Sweet, salty and crunchy, these fun candy pretzel twists will add some tasty yum to the party!
Recipe Ingredients:
12 small pretzels (twisted)
12 HERSHEY'S KISSES Brand Milk Chocolates
Decorative garnishes such as: REESE'S MINI PIECES Candies, REESE'S Peanut Butter Chips, HERSHEY'S Triple Chocolate Sprinkles, REESE'S Peanut Butter Sprinkles, small holiday themed candies, nut pieces, miniture marshmallows, candied cherry pieces
Cooking Directions:
Preheat oven to 350°F (175°C).
Remove wrappers from chocolates.
Place pretzels on ungreased cookie sheet. Place 1 unwrapped chocolate on top of each pretzel.
Bake 2 to 3 minutes or until the chocolate starts to soften, but is not melting. (Do not overheat. Melted chocolate retains its shape until disturbed. Heat only until you can gently push chocolate tip down.)
Remove from oven; gently press decorative garnish on top of the soft chocolate piece. Cool and serve.
Makes 12 candy twists.
Recipe and photograph courtesy of the Hershey Kitchens, and reprinted with permission of The Hershey Company. © The Hershey Company.