Kisses Pumpkin Spice Pumpkin Crispy Treats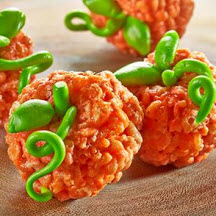 How cute are these autumn-inspired treats? They're perfect for fall parties and easy enough for a fun family project.
Recipe Ingredients:
7 to 8 JOLLY RANCHER Green Apple Fruit Chews
10 HERSHEY'S KISSES Brand Pumpkin Spice Flavored Candies
3 tablespoons butter
2 cups miniature marshmallows or 20 large marshmallows
9 drops red food color
8 drops yellow food color
3 cups crisped rice cereal
Cooking Directions:
Remove wrappers from fruit chews. Knead candy until soft and pliable. (If necessary, heat in microwave at MEDIUM (50%) for about 5 seconds to soften.) Roll one candy into 3-inch rope; cut into sections for stems. Form desired number of leaf-shaped pieces from remaining candies. If desired, additional candies may be rolled into long tendrils for pumpkins. Set stems and leaves aside.
Remove wrappers from pumpkin spice candies; cut each in half and set aside. Line tray or cookie sheet with wax paper.
Place butter in large microwave-safe bowl. Microwave at HIGH (100%) 30 seconds or until melted. Add marshmallows and food colors; stir to coat marshmallows. Microwave at HIGH 1 minute; stir until marshmallows are melted and color is blended. Add pumpkin spice candies; stir until melted and mixture is blended. Add cereal; stir until evenly coated with marshmallow mixture.
With greased hands or damp hands form mixture into balls to resemble pumpkin shapes. Place on prepared tray. While still soft and pliable add stems, leaves and tendrils, if desired. Allow to set until marshmallow mixture cools and is firm. Store in cool, dry place.
Makes about 14 (1 3/4-inch) pumpkins.
Recipe and photograph courtesy of the Hershey Kitchens, and reprinted with permission of The Hershey Company. © The Hershey Company.