Pumpkin Parade Halloween Cake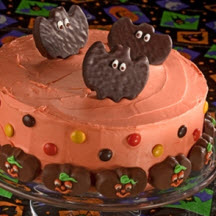 Impress and delight your Halloween guests with this delicious homemade chocolate layer cake all dressed up for Halloween.
Recipe Ingredients:
Chocolate Cake:
2/3 cup butter or margarine, softened
1 3/4 cups granulated sugar
3 large eggs
1 teaspoon vanilla extract
2 cups all-purpose flour
1/2 cup HERSHEY'S Cocoa
1 teaspoon baking powder
3/4 teaspoon baking soda
1/2 teaspoon salt
1 1/2 cups buttermilk or sour milk*
Royal Icing:
2 1/4 cups powdered sugar
2 tablespoons warm water
1 tablespoon pasteurized dried egg whites (meringue powder)
Additional water
Food coloring
Pumpkin Patch Pumpkins:
12 to 13 (0.6-ounce) REESE'S Peanut Butter Pumpkins
1 (16-ounce) can vanilla ready-to-spread frosting or your favorite vanilla frosting
Red and yellow food coloring
1/2 cup REESE'S PIECES Candies
3 YORK Peppermint Pattie Bats
Cooking Directions:
Preheat oven to 350°F (175°C). Grease and flour 2 (9-inch) round baking pans.
Beat butter, sugar, eggs and vanilla in large bowl until fluffy. Combine flour, cocoa, baking powder, baking soda and salt; add alternately with buttermilk to butter mixture, beating just until smooth. Pour batter into prepared pans.
Bake 30 to 35 minutes or until wooden pick inserted in center comes out clean. Cool 10 minutes; remove from pans to wire racks. Cool completely.
Prepare Royal Icing: Stir together powdered sugar, warm water and dried egg whites. Beat at medium speed of electric mixer until spreadable. Add additional water, 1 teaspoon at a time, if too thick. Divide icing into small bowls for each color desired and tint with food colorings. Transfer icing to pastry bags or heavy duty food storage bags with desired tip. Cover icings and tips of pastry bags with damp paper towels to keep icing from drying out. (Some icing garnishes may need a firmer icing to hold their shape. Stir in small amounts of additional powdered sugar to get the desired consistency.) 1 cup icing.
For Pumpkin Patch Pumpkins: Using the Royal Icing, decorate REESE'S Peanut Butter Pumpkins with desired facial features. Allow icing to harden. (If you don't like the design or parts of the design, wait until the icing has hardened and then you can remove without damaging the surface of the pumpkin.)
Tint canned frosting to the desired shade of orange; frost and fill the cooled cake. Parade decorated peanut butter pumpkins along bottom edge of cake. Decorate cake sides with REESE'S PIECES. Add icing eyes to peppermint pattie bats; place on top of cake.
Makes 12 servings.
*To sour milk: Use 4 1/2 teaspoons white vinegar plus milk to equal 1 1/2 cups.
Recipe and photograph courtesy of the Hershey Kitchens, and reprinted with permission of The Hershey Company. © The Hershey Company.