Witch's Hat Chocolate Cupcakes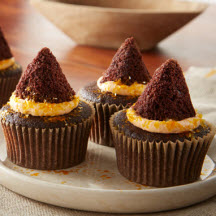 Cone-shaped pieces are cut from the centers of each cupcake to be uses as the witch's hat for these orange cream-filled cupcakes.
Recipe Ingredients:
3/4 cup (1 1/2 sticks) butter or margarine, softened
1 2/3 cups granulated sugar
3 large eggs
1 teaspoon vanilla extract
2 cups all-purpose flour
2/3 cup HERSHEY'S Cocoa
1 1/4 teaspoons baking soda
1 teaspoon salt
1/4 teaspoon baking powder
1 1/3 cups water
Orange Cream Filling:
1/2 cup (1 stick) butter or margarine, softened
1 cup marshmallow creme
1 1/4 cups powdered sugar
1/2 to 1 teaspoon freshly grated orange peel
1/2 teaspoon vanilla extract
2 to 3 teaspoons orange juice
Red and yellow food color (optional)
Cooking Directions:
Preheat oven to 350°F (175°C). Line muffin cups (2 1/2-inches in diameter) with paper bake cups.
Beat butter, sugar, eggs and vanilla in large bowl on high speed of mixer 3 minutes. Stir together flour, cocoa, baking soda, salt and baking powder; add alternately with water to butter mixture, beating just until blended. Fill muffin cups 2/3 full with batter.
Bake 20 to 25 minutes or until wooden pick inserted in center comes out clean. Remove from pan to wire rack. Cool completely.
Prepare Orange Cream Filling: Beat butter in small bowl; gradually beat in marshmallow creme. Add powdered sugar, orange peel and vanilla, beating until blended. Gradually add orange juice and food color, if desired, beating to desired consistency. About 1 1/3 cups filling.
Cut 1 1/2-inch cone-shaped piece from center of each cupcake; reserve. Fill each cavity with scant tablespoon filling. Place reserved cake pieces on filling, pointed side up. Refrigerate before serving.
Makes 2 1/2 dozen cupcakes.
Recipe and photograph courtesy of the Hershey Kitchens, and reprinted with permission of The Hershey Company. © The Hershey Company.