All-American Raisin Apple Tartlets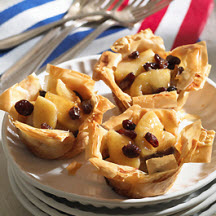 Raisins add an extra pop of sweetness to miniature apple tartlets - a party-perfect version of classic American apple pie.
Recipe Ingredients:
2 tablespoons butter or margarine
4 medium green apples, peeled and sliced
1/4 cup brown sugar, packed
1 teaspoon ground cinnamon
1 cup California raisins
18 sheets phyllo dough
Butter flavor cooking spray
9 tablespoons shredded sharp cheddar
Cooking Directions:
Preheat oven to 375°F (190°C) and spray 12 cupcake tins with nonstick cooking spray. Melt butter in a large skillet over medium heat. Stir in apples and cook, stirring frequently, for 10 minutes. Stir in brown sugar and cinnamon and cook for a minute more; add raisins and set aside.
Meanwhile, lay one sheet of phyllo on a cutting board; keep remaining covered with a damp towel to prevent drying. Spray sheet with cooking spray. Repeat with five more sheets, sprinkling 3 tablespoons cheese in under the last layer; press firmly to keep cheese in dough. Assemble 2 more stacks. Cut each stack in half crosswise to make 6 pieces; then, cut each piece lengthwise into 6 strips for a total of 36 strips.
Center and press 3 strips into each tin, letting the dough extend over the top by about 1/2-inch. Divide and spoon fruit mixture in centers.
Bake for 10 minutes, until lightly browned; then, tent loosely with foil and bake for 10 minutes more, until done.
Makes 12 tartlets.
Recipe and photograph provided courtesy of www.LoveYourRaisins.com; through ARA Content.