Bunny Buns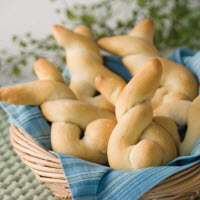 These whimsical, easy-to-make bread bunnies will add some tasty fun to your holiday table.
Recipe Ingredients:
1 package Rhodes Dinner Rolls (thawed but still cold)
Cooking Directions:
Cut a small piece of one roll for a tail.
Roll remaining piece into a 16-inch rope with pointed ends. Twist top of rope together.
Place on a large baking sheet coated with cooking spray.
Pull pointed ends apart for ears.
Roll small cut-off piece into a ball for the tail. Using your finger, make an indentation at the spot for the tail. Moisten the tail with water and place in the indentation.
Repeat to make as many bunnies as desired.
Cover with sprayed plastic wrap and allow rolls to rise for 30 to 45 minutes.
Remove the wrap and bake at 350°F (175°C) for 15 to 20 minutes until golden brown. Enjoy with butter.
Makes 6 servings.
Recipe and photograph provided by www.rhodesbread.com via Brandpoint Content; Copyright 1996-2014.