Christmas Fruit Kringle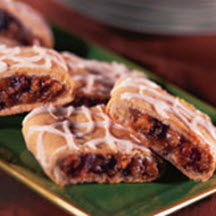 A kringle is a thin, delicate pastry developed hundreds of years ago in Denmark. Kringles are hand-rolled using pastry dough that has been allowed to rest overnight before shaping, filling and baking.
Recipe Ingredients:
2 1/2 cups all-purpose flour
1/4 teaspoon salt
1/2 cup butter, softened
1 teaspoon active dry yeast
2 tablespoons warm water
2 large eggs
2/3 cup granulated sugar - divided use
1/3 cup buttermilk
1/2 cup brown sugar, packed
1 teaspoon ground cinnamon
1 cup dried fruit (raisins, apples, apricots, cherries, etc.), chopped
1/4 cup cinnamon chips
1/2 cup Wisconsin Cream Cheese, softened
1/2 cup nuts (pecans, walnuts, almonds, macadamia, etc.), chopped
1 cup powdered sugar
1/3 cup heavy cream
Cooking Directions:
In a large bowl, combine flour and salt. Cut in butter. In a small bowl, dissolve yeast in warm water (105°F to 115°F | 40°C to 45°C ).
In another bowl, combine eggs, 2 tablespoon sugar and buttermilk.
Combine dissolved yeast with egg mixture. Add to flour mixture. Stir to make dough. Cover and refrigerate dough overnight.
For Filling: Combine remaining granulated sugar, brown sugar, cinnamon, chopped fruit, cinnamon chips, Cream Cheese and chopped nuts in a medium bowl.
Divide dough into 3 parts. Roll 1 piece into a 15 x 8-inch rectangle. Carefully spread 1/3 of filling mixture lengthwise across bottom half of dough. Fold over, pinch to seal and fold all seams underneath. Finished Kringle should be approximately 14 x 4 inches. Transfer to baking sheet. Repeat process with remaining 2 pieces of dough and filling.
Place in a 375°F (190°C) preheated oven for 25 to 30 minutes or until golden brown. Cool to room temperature. Combine powdered sugar and cream. Drizzle over Kringle and serve.
Makes 24 bars.
Tip: Cinnamon chips are available in the baking aisle of most supermarkets.
Recipe and photograph provided courtesy of Wisconsin Milk Marketing Board, Inc.