Creepy Crawly Pudding-Filled Cupcakes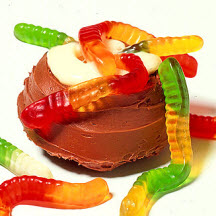 Up the "yuck" factor of these pudding-filled cupcakes with layers of slimy gummy worms.
Recipe Ingredients:
Shortening
1 (8-ounce) package brownie mix
3/4 cup canned milk-chocolate frosting
3/4 cup prepared vanilla pudding or vanilla yogurt
Chewy fruit worms
Red String Licorice
Cooking Directions:
Turn on the oven to 350°F (175°C). Put some of the shortening on a small piece of waxed paper or paper towel and rub evenly over the bottoms and sides of the muffin cups to grease them.
Prepare the brownie mix according to package directions using a medium mixing bowl and a wooden spoon.
Spoon batter evenly into six 2-1/2-inch muffin cups, filling each half full.
Put the muffin pan in the oven. Bake for 18 to 20 minutes. (To test to see if the cupcakes are done, use hot pads to pull out the oven rack. Stick a wooden toothpick in the center of a cupcake; pull out the toothpick. If any cake sticks to it, push in oven rack, bake a few minutes more, and test again.) Turn off oven.
Use hot pads to remove muffin pan from oven. Place the pan on a wire rack. Let the cupcakes cool in the pan for 5 minutes. Use a table knife or a metal spatula to carefully loosen cupcakes from the muffin pan. To remove the cupcakes, gently tip the muffin pan over the wire rack. Cool the cupcakes on the rack.
Turn the cooled cupcakes upside down. Using a spoon, carefully scoop out the centers of the cupcakes, leaving about 1/2 inch around the edges and about 1 inch on the bottoms of the cupcakes.
Spread the frosting on the sides and top of each cupcake with a table knife or metal spatula. Spoon the pudding into the center of each cupcake. If desired, put some chewy fruit worms in the filling and/or push the ends of the licorice into opposite sides of the cupcake to make a handle.
Makes 6 cupcakes.
Recipe and photograph provided by Better Homes and Gardens - BHG.com a member of the Home and Family Network for the best of cooking, gardening, decorating and more. © Meredith Corporation. All Rights Reserved.