Eyeball Quiche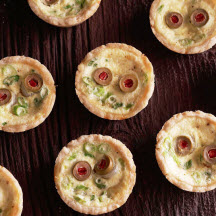 Staring red eyes give these zombie-faced mini quiches an eery aura. The bite-size appeal and tasty filling will have Halloween guests gobbling them up anyway! Pimiento-stuffed olive slices serve as the hypnotic eyes, but pearl onions hidden beneath keep the eyes from sinking into the rich egg-and-cheese filling.
Recipe Ingredients:
Pastry dough for (9-inch) double crust pie*
20 pearl onions or frozen pearl onions, thawed and halved
3 large eggs
1 1/2 cups whole milk
4 ounces Swiss or Fontina cheese, shredded (1 cup)
3 green onions, sliced
1/4 teaspoon salt
1/4 teaspoon ground black pepper
1/2 cup pimiento-stuffed green olives and/or large pitted black olives, sliced
Cooking Directions:
Prepare and chill pastry dough.
If using fresh pearl onions, place them in a saucepan of boiling water. Remove saucepan from heat and let stand for 5 minutes. Drain. When cool enough to handle, remove skins from onions; carefully halve onions. Set aside.
Preheat oven to 375°F (190°C).
Divide chilled Pastry Dough into 20 portions; shape each portion into a ball. Place one ball in each of twenty 2 1/2-inch muffin cups. Press dough into bottoms and up sides of muffin cups. Set aside.
In a medium bowl beat eggs with a fork until combined. Stir in milk, cheese, green onions, salt, and pepper. Ladle egg mixture into pastry crusts, filling each three-fourths full. On top of egg mixture in each muffin cup, arrange pairs of pearl onion halves and olive slices.
Bake in the preheated oven for 20 to 25 minutes or until a knife inserted near centers comes out clean. Let cool in muffin cups for 10 minutes. Using a sharp knife, carefully loosen sides. Carefully remove from muffin cups; serve warm.
Makes 20 mini quiches.
*Use store bought ready-to-use, or homemade pastry using your favorite recipe, or ours: Basic Pie Crust 101.
Recipe and photograph provided by Better Homes and Gardens - BHG.com a member of the Home and Family Network for the best of cooking, gardening, decorating and more. © Meredith Corporation. All Rights Reserved.