Filled Cherry Macaroons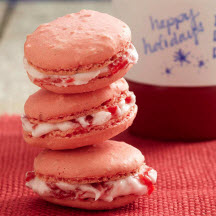 Bring extra holiday cheer to your cookie tray with a dazzling lineup of cherry macaroons. These feature luscious cherry buttercream frosting sandwiched between two crisp almond cookies.
Recipe Ingredients:
1 1/2 cups finely ground almonds (about 6 ounces)
1 1/4 cups powdered sugar
3 large egg whites
1/2 teaspoon vanilla extract
1/4 teaspoon salt
1/4 cup granulated sugar
4 drops red food coloring
Cherry Buttercream Filling:
3 tablespoons butter, softened
2 cups powdered sugar
1 tablespoons kirsch or milk
1/2 teaspoon almond extract
1/2 cup finely snipped maraschino cherries, patted dry on paper towels
Cooking Directions:
Line cookie sheets with parchment paper. Draw 1 1/2-inch circles about 1 1/2 inches apart on the parchment paper. Turn paper over; set aside.
In a medium bowl stir together the almonds and powdered sugar. In a large mixing bowl combine egg whites, vanilla, and salt. Beat with an electric mixer on medium speed until frothy. Gradually add the granulated sugar, 1 tablespoon at a time, beating on high speed until soft peaks form (tips curl). Gently stir in food coloring. Fold in nut mixture.
Transfer egg white mixture to a large pastry bag fitted with a 1/2-inch round tip. Pipe 1-1/2-inch flat circles into outlines on the prepared cookie sheets. Let stand for 30 minutes before baking (cookies should feel dry to the touch).
Preheat oven to 325°F (160°C).
Bake for 11 to 12 minutes or until set. Transfer cookies on parchment paper to a wire rack and let cool. Carefully peel cooled cookies off parchment paper.
Spread Cherry Buttercream Filling on flat sides (bottoms) of half of the cooled cookies. Gently press the flat sides of the remaining cookies against the filing.
For Cherry Buttercream Filling: In a medium bowl beat butter with an electric mixer on medium to high speed for 30 seconds. Add 1 cup powdered sugar, kirsch, and almond extract; beat until combined. Beat in 1 cup additional powdered sugar. If necessary, beat in 2 to 3 teaspoons additional kirsch to make a spreading consistency. Stir in maraschino cherries.
Makes 22 sandwich cookies.
Make-Ahead Directions: Place unfilled cookies between sheets of waxed paper in an airtight container; cover. Store at room temperature for up to 1 week or freeze for up to 3 months. Fill cookies just before serving.
Nutritional Information Per Serving (1/22 of recipe): 140 kcal cal., 5g fat (1g sat. fat, 1g polyunsaturated fat, 2g monounsatured fat), 4mg chol., 48mg sodium, 23g carb., 1g fiber, 21g sugar, 2g protein.
Recipe and photograph provided by Better Homes and Gardens - BHG.com a member of the Home and Family Network for the best of cooking, gardening, decorating and more. © Meredith Corporation. All Rights Reserved.