Graveyard Dip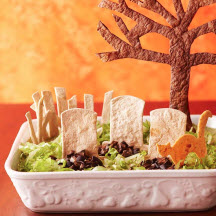 Dig into this spooky graveyard — if you dare! Venture into this Halloween appetizer and you'll discover a tasty taco dip. Layers of refried beans, lettuce, and black olives mimic dirt and grass. Eerie shapes cut from tortilla shells complete the spooky Halloween landscape.
Recipe Ingredients:
1 (16-ounce) can refried beans with green chiles
1/4 cup bottled salsa
2/3 cup bottled ranch salad dressing
2 teaspoons taco seasoning
1 1/2 cups finely chopped cooked chicken
1 (7-ounce) pouch refrigerated guacamole
1/2 of a (2 1/4-ounce) can chopped pitted ripe olives, drained
Shredded lettuce

Tombstone Graveyard Characters:
10-inch flour tortillas (any flavor)
Cooking Directions:
In a small bowl, combine refried beans and salsa. Spread refried bean mixture in a 2-quart rectangular dish. In a small bowl, combine ranch salad dressing and taco seasoning; stir in chicken.
Spoon on top of the beans in an even layer. Spoon guacamole in small mounds on top of the chicken mixture. Carefully spread to an even layer.
Cover and chill at least 30 minutes or up to 6 hours before serving. Just before serving, place Graveyard Characters into dip. Sprinkle the graves with chopped olives and shredded lettuce. Serve with tortilla chips.
For Tortilla Graveyard Characters: Using cookie cutters or a knife, cut tortillas into gravestones, cats, owls, bats, fence rails, and a tree. Bake in a 350°F (175°C) oven for 5 to 7 minutes or until firm and crisp. Cool on rack.
Makes ? servings.
Recipe and photograph provided by Better Homes and Gardens - BHG.com a member of the Home and Family Network for the best of cooking, gardening, decorating and more. © Meredith Corporation. All Rights Reserved.