Halloween Chicken Fingers with Romesco Dipping Sauce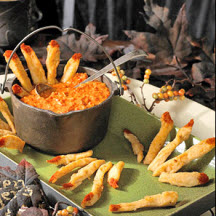 Homemade chicken strips become "fingers" to dip in a tasty sauce for a memorable Halloween appetizer or main fare.
Recipe Ingredients:
Romesco Dipping Sauce:
2 large red sweet peppers, halved lengthwise, seeds and membranes removed, flattened
1 cup day old crusty bread, cubed
3/4 cup chopped fresh tomato (1 large)
1/3 cup sliced natural almonds, toasted
3 tablespoons sherry vinegar
3 cloves garlic, minced
1/2 teaspoon smoked Spanish or regular paprika
1/2 teaspoon salt
1/4 teaspoon ground black pepper
1/4 cup olive oil
Chicken Fingers:
3/4 cup all-purpose flour
1 teaspoon salt
1/2 teaspoon ground black pepper
1 1/2 pounds boneless, skinless chicken breast halves, cut into 1/2-inch by 3-inch strips
1 tablespoon olive oil
1 tablespoon unsalted butter
Smoked Spanish or regular paprika
Cooking Directions:
For Romesco Dipping Sauce: Preheat broiler. Place peppers on a broiler pan. Broil peppers, 4 to 5 inches from the heat, until skins are blacked, turning once. Remove, stack pieces together, cover with aluminum foil and let stand 15 minutes. Peel off skins; discard skins. In blender combine peppers, bread, tomato, almonds, vinegar, garlic, paprika, 1/2 teaspoon salt, and 1/4 teaspoon pepper. Cover and blend. Add 1/4 cup olive oil in steady stream through the top of blender until mixture is almost smooth. Transfer to a serving bowl or storage container. Cover and chill until serving time.
For Chicken Fingers: In large bowl combine flour, 1 teaspoon salt, and 1/2 teaspoon pepper. Coat chicken strips in flour. Heat 1 tablespoon oil and butter in large nonstick skillet over high heat. Add chicken strips, one-third at a time, browning well on all sides, 3 to 4 minutes per batch. Dip the end of each chicken strip in ground paprika. Serve with Romesco Dipping Sauce.
Makes 10 servings (about 40 pieces).
Recipe and photograph provided by Better Homes and Gardens - BHG.com a member of the Home and Family Network for the best of cooking, gardening, decorating and more. © Meredith Corporation. All Rights Reserved.