Halloween Mummy Dogs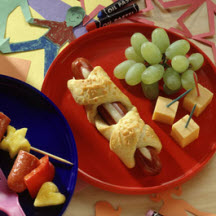 Trick-or-treaters will have just as much fun making these as they will eating them!

Recipe Ingredients:
2 tubes refrigerator pizza dough rolls
1 cup grated part-skim mozzarella cheese
1/4 cup Freshly grated Parmesan (part-skim) cheese
Non-stick spray
4 tablespoons pizza sauce or pasta sauce
8 hot dogs
Optional pizza toppings: onions, green peppers, olives, etc.
1 tablespoon Italian herb seasoning mix (or your own mix of oregano, thyme, parsley, etc.)
Cooking Directions:
Preheat oven to 350°F (175°C).
Open package of pizza dough, gather ingredients, grate cheese, and dice vegetables.
Spray cookie sheet with non-stick spray.
Place pizza dough on sheet and cut into 8 squares; press dough thin with fingers.
Add pizza sauce to each square.
Add hot dogs and other pizza toppings and pizza herbs to taste.
"Mummify" the hot dogs by wrapping them completely in the dough and pinching the ends.
Bake for approximately 15 minutes or until crust begins to brown.
Serve with warm pizza sauce for dip.
Makes 6 servings.
Recipe and photograph provided courtesy National Hot Dog And Sausage Council.