Haunted Pizza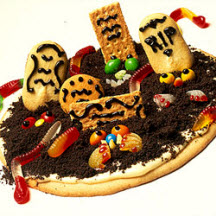 This kid-pleasing treat will be a hit at your Halloween party.
Recipe Ingredients:
1 (18 ounce) roll refrigerated sugar-cookie dough
4 (3.5-ounce) containers vanilla pudding
2 cups chocolate cookie crumbs or 20 chocolate sandwich cookies with white filling, finely crushed
Assorted whole vanilla wafers, graham crackers, and/or chocolate-filled oval shortbread cookies
Black, green, red, and white decorator gel icing
Assorted candies, such as fruit-flavored jelly worms, candy-coated, chocolate-covered peanuts and gumdrops
Cooking Directions:
Preheat oven to 350°F (175°C). Grease a 12-inch pizza pan or 3 baking sheets.
With lightly floured hands, pat the cookie dough into prepared pizza pan. If using baking sheets, divide dough into thirds and pat each third into a 7-inch circle onto the prepared baking sheets.
Bake for 10 to 12 minutes for pizza pan or 8 to 10 minutes for smaller circles of dough, or until edges are lightly browned. Cook on wire rack.
Spread vanilla pudding over baked cookie. Sprinkle with cookie crumbs. Cover and chill.
Meanwhile, decorate cookie tombstones.
Press cookies into pudding layer of pizza. If necessary, support back of cookies with some of the candies. Decorate "graveyard" with candies. Create peering eyes with candy-coated chocolate peanuts; make shoes, feet, and hands with gumdrops; and arrange jelly worms.
Cover and chill up to 4 hours before serving.
Makes 16 to 20 servings.
Recipe provided by Better Homes and Gardens - BHG.com a member of the Home and Family Network for the best of cooking, gardening, decorating and more. © 2003 Meredith Corporation. All Rights Reserved.